Written by: Prof Dr Christian Mehl
A certified implantologist and prosthodontics specialist with 20+ years in dentistry, I conduct clinical research, teach at University of Kiel, and contribute to implant system development. Recipient of the Camlog Research Award, I frequently publish and deliver global lectures.
Clinically reviewed by: Dr Raul Costa
All on 4 & 6 Dental Implants in London
Losing a permanent tooth doesn't mean you have to live with it. Wimpole Street Dental Clinic wants to help you regain your confidence and smile freely again with our All-on-4 dental implants. Our internationally renowned team uses state-of-the-art technology to replace your teeth with customised crowns.
You're in good hands. Concerning Fixed-teeth-in-a-day, Prof. Christian Mehl is our core specialist in implantology and prosthetics and is certified by the German Society of Prosthodontics, the German Society of Implantology and the General Dental Council as a specialist.
All on 4 & 6 dental implants for the same day – full mouth teeth
Smiling with your mouth closed doesn't have to be your only choice. Fixed-teeth-in-a-day treatment is a surgical procedure that is designed to provide full mouth restoration.
Many of our patients who seek all-on-4 dental implants have lost a number of teeth to injury or declining oral health. This can make them feel particularly self-conscious and low in confidence about their smile. Whilst traditional procedures like dental implants can help resolve this problem, such treatment for multiple teeth can be very time-consuming and take too long. Many patients, they want to have the look of natural teeth back on the same day. All-on-4 implants allow for four or six, implants to be fitted on the same day at our London dental implant clinic in one single-day procedure. The first stage to 'get your smile back' is to book an initial consultation with one of our dentists.
The treatment involves creating artificial roots within the jawbone to support replacement teeth such as an implant. You may want to consider All-on-4 dental implants if you: have oral issues that have impacted your mouth over a long period of time, are missing several teeth, or have failing teeth, or can no longer wear a set of dentures.
Our dentists will be able to advise if you're suitable for all-on-4 implants at your initial consultation in our central London dental clinic on Wimpole Street (adjacent to the famous Harley Street). They will take a few notes and ask about your oral hygiene and history and then will inspect your mouth to assess your suitability.
Treatment Duration
2/3 hours per jaw
Price
From £15,000 per jaw

Combined Team Experience
50+ years
Recovery Time
7+ days
Our Google Rating
★★★★★ (4.9)
The procedure
Once we've determined dental implants are right for you, you can expect the following treatment:
We understand that you're busy, but rest assured that we can complete your same-day implant treatment in a fast, efficient and safe manner. We can complete our All-on-4 dental implant process for you in one day, making for an efficient procedure. Because we'll finish the dental implant treatment in one appointment, please expect to be in the practice from 8 a.m. to 5 p.m.
Before the procedure, we will prepare your new teeth based on your three-dimensional X-rays, digital models and photographs of your upper and lower jaws. On the day of your surgery, you will start the sedation process after arrival and registration at our dental practice. From there, the surgery will begin. The timing to complete varies from patient to patient, but the surgery part takes around 2-4 hours.
After the procedure, you will enter the recovery room until the sedation wears off. Then, you will be cleared to leave with a family member or friend after a quick check by our dentist. After your procedure, we will schedule two follow-up visits to ensure you're feeling good about your new and improved smile. In the second appointment, the final teeth will be placed. In the years after the procedure, you will come in for routine cleanings and check-ups.
Our Reviews
Natalia Sassoon
2023-06-10
Great service and care with Dr Shravan. Highly recommend his service and the clinic for all their help. Thank you!
Bianca Skinner
2023-06-05
Excellent practice! Such a lovely practice. I have been a client of Raul Costa's for many years. He is incredibly professional, experienced and I trust him completely.
Hi, I have been recommended to Wimpole Street Dental Clinic. Booked an appointment for check up. My Dentist was Dr. Raul Costa. During the check up, some issues were discovered. Everything was explained into detail, and with the beat solution's. On the spot Dr. Raul Costa has dealt with the minor issues, which it was really great and helpful. For my next appointment, we had to work for at least 1 and a half hour. To be honest I am not really good in sitting for so long in a dentist chiar, and doing all sorts of procedures. But Dr. Raul Costa made it look, and feel very easy taking and comfortable. To be honest at one point I did fell asleep, which this never happened to me, during dental practice to my body. I am more than happy with the results, and also with the type of quality materials used. I have already recommended the clinic and Dr. Raul Costa to a few friends and family, which they already been there, and they are very happy. Can highly recommend Wimpole Street Dental Clinic, Dr. Raul Costa and all their professional stuff. Alex
Verity Wilkinson
2023-05-10
I can't recommend the clinic enough! I am a nervous person when it comes to dentistry but was made to feel immediately at ease by all the staff. Christian and his team are incredible!
Alexander Higgs
2023-02-22
Expertise shown by Dr S Chawla was excellent, calmed any nerves I had and let me know everything that was going to happen before doing anything. Gave a detailed plan and was able to answer any question I had for him. Unfortunately 2 Bitewing X-rays did not load so was exposed to unnecessary radiation. Hope they correct this Fault for future patients.
I've had fixed implants( top and bottom) at this clinic . I could not be happier with the result. Dr Dejan Dragisic preformed the procedure and I can not recommend him highly enough . The whole team at this clinic are very professional, helpful and friendly . Dr Dejan Dragisic explained the whole procedure and put my mind at rest the whole whole time I was in the chair . I had very little pain afterwards . Worth every penny .
Excellence. I can't say this enough. Just Excellence, from the moment I walked in to when I left. I was very nervous after bad experiences over many, many years with other dental practices, resulting in me not going to a dentist. The receptionists were very kind and understanding, making me feel at ease. Prof Dr Christian Mehl was extremely patient, respectful, attentive, and assuring, and he explained everything to me. My treatment was smooth and flawless, with absolutely no pain. He is, without a doubt, a true professional. I have my faith restored, but most of all, I have finally, finally found a dental clinic and a dentist I can trust. I can't thank everyone enough. I don't normally write or trust reviews. If you are reading this, then I assure you, you can trust this one.
Bernhard Raschke
2023-01-17
Brilliant team (receptionists, dentists, nurses), brilliant patient experience and top quality work. Real professionals with a big heart!
Donna Williams
2023-01-15
6 star service and care! What a fabulous experience- worth every £. Exceptional dentistry from surgeon Dr A El-Awa , top tech used to ensure my 2nd molar was extracted in the most efficient, comfortable ( pain free) and caring, personal manner. Unbelievably well treated by all staff, front desk to Dr's assistants Alice and Anna. Simply beyond expectations. Thank you ! Don't hesitate to book this top class, clean and professional clinic. Off the charts, excellent. Actually looking forward to the follow up treatment programme for the rest of my mouth!! And I came up from Brighton to Central London for this. Well done. Best £££'s worth in a very long time!
Benefits All on 4 & 6 dental implants
With the many benefits that come with All-on-4 dental implants, you'll feel confident about making the investment.
In comparison to traditional implants, teeth are removed and All-on-4 dental implants are inserted into the jaw in just one day thanks to our state-of-the-art implant technology. Some of the other advantages of our dental implant surgery include:
No palate cover.
We create tailor-made dentures and bridges.
No bone augmentation or grafting is required. We use innovative surgery techniques to restore your smile.
Fewer appointments are needed. We only need one day to perform the implant treatment.
Immediate use of your new and improved denture thanks to our same-day teeth implants.
The All-on-4 implant restores your smile with the strength and look of natural teeth on the same day.
Care from certified dental specialists who have received awards for research in implantology and prosthodontics.
Cost of dental implants for All on 4 & 6
Normally cost expectations for implant treatment are difficult to disclose until your initial consultation because the price varies from patient to patient. However, this all-on-4 implant same-day implant treatment is one of the few treatments in dentistry where we can guarantee the following implant costs. Discussing costs can be intimidating for some, but we want you to feel comfortable with your options. You will have a better understanding of your specific pricing after an implant treatment and cost plan discussion with the dentist.
We offer finance for any treatment over £1,000 and up to £30,000. The finance calculator below will break down your monthly repayments based on the overall cost of the treatment.
All-on-4™ – Fixed teeth in a day

from £15,000
PER JAW
Extra Implants for the all-on-4 procedure –
per implant
FROM £2,000
Zygoma implant supported
fixed teeth in a day
FROM £25,000
All on 4 & 6 implants – before & afters
All-on-4 Dental Implants
We recently had a patient who came to us seeking a solution for their missing …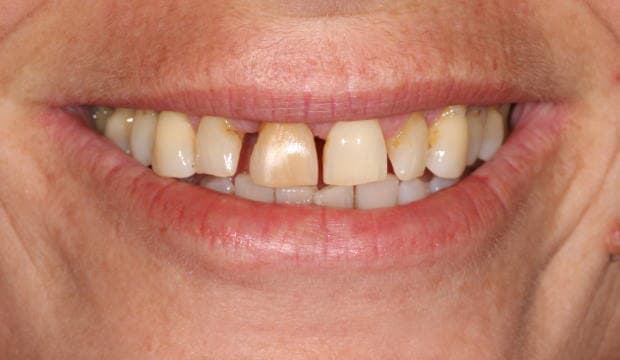 Fixed teeth-in-a-day/All-on-4, Crowns, Bridges and Single Implants
This patient was scared of dentists and did not go to see one for a …
Frequently asked questions about All on 4
How long do All on 4 dental implants last?
Feeling confident about a major cosmetic investment can help you feel satisfied overall. After 11 years, All-on-4 dental implants have the success rate of 91% and 99% of the restorations are still in place. The treatment concept has been validated for decades to last many years, but can last a lifetime if properly cared for.
At the Wimpole Street Dental Clinic implant centre in London, we can give you a five-year warranty on the dentures and life-long warranties on the dental implant materials themselves if the restoration is cleaned at least once a year as a minimum. With proper dental care, regular check-ups and maintaining a regular dental hygiene routine you not only protect your dental health but your new All-on-4 implants.
What are the risks associated with All on 4 dental implants?
Risks which are associated with All-on-4 dental implants include sensitivity disorders in the chin area from injury to the nerve which may occur, although it is extremely rare. Peri-implantitis, or periodontitis around the dental implant, may occur without the patient's commitment to proper oral hygiene habits. This risk may be more likely to develop in smokers.
Dental procedures can understandably create anxiety around potential pain. However, at Wimpole Street Dental Clinic, we use the most advanced anaesthesia and sedation techniques to ensure our patients' comfort during the procedure. Most patients report minimal discomfort during the All-on-4 implant procedure, especially when compared to traditional implant methods.
How can you extend the durability of your All on 4 dental implants?
Getting All-on-4 dental implants is the first step. Taking necessary precautionary measures to keep them in good shape is the second. Thankfully, the road to durability is simple to navigate. There are easy steps you can take at home to extend the life of your implants.
Extending the life of your dental implants is as easy as practising proper oral hygiene habits. Brushing and flossing regularly to remove food residue is essential to keeping your implants in good condition. One of our dental professionals will teach you the specifics about cleaning your denture and how to floss with dental implants.
It's also important to visit the dentist at a minimum once, better twice a year for a cleaning; this is mandatory for those with a warranty.
Why are we one of the best dentists for All on 4 implants in London?
Losing a permanent tooth doesn't mean you have to live with it. At Wimpole Street Dental Clinic, we want to help you regain your self-confidence and smile freely again with our All-on-4 dental implants.
Our internationally renowned team uses state-of-the-art technology to replace your teeth with customised bridges
You're in good hands. Prof. Christian Mehl is our core specialist in implantology and prosthetics and is certified by the German Society of Prosthodontics, the German Society of Implantology and the General Dental Council as a specialist. He has undertaken hundreds of same-day dental implants and has added extensive experience in general dentistry and cosmetic dentistry.
We've created one of the most innovative and modern dental practices in the dental industry by refurbishing our London dental practice by combining the latest state-of-the-art technology with our highly trained and skilled team of dentists, surgeons, nurses, sedationists, technicians and administration staff.
Can I get All on 4 implants on the NHS?
Unfortunately, All-on-4 dental implants are not generally covered by the NHS as they are deemed a cosmetic procedure rather than essential care. The NHS does offer some dental implant services, but these are typically reserved for cases of trauma or congenital conditions. But at Wimpole Street Dental Clinic, we understand the value of a healthy, beautiful smile. Therefore, we offer a wide range of payment plans and financing options to make these transformative treatments accessible to everyone.
Can I eat normally with All on 4 dental implants
One of the many benefits of All-on-4 implants is the ability to eat with confidence again. Once the healing process is completed, you'll be able to enjoy the same range of foods as you would with your natural teeth. The implants create a solid foundation, restoring your bite strength and allowing you to relish everything from a crisp apple to a hearty steak.
In the initial weeks following the All-on-4 procedure, we recommend patients to stick to a diet of soft foods and liquids. This ensures that the surgical sites can heal properly without any undue pressure or stress. Once you have completely healed, you can resume a normal diet. However, it's best to avoid overly hard or sticky foods as an extra measure of caution to protect your new teeth.
Pain or discomfort when chewing could signify a few potential issues, such as incorrect bite alignment, an infection, or implant loosening. These complications are relatively rare due to the precision of our implant placement and our comprehensive follow-up care, but if they do arise, it's essential to seek professional help promptly. If you experience any discomfort with your implants, please do not hesitate to contact our clinic.
Can your mouth reject an implant?
It's extremely uncommon for the body to reject a dental implant as they are made of biocompatible materials. However, there can be complications, such as infection, poor bone density, or inadequate oral hygiene, that may lead to implant failure. At Wimpole Street Dental Clinic, we strive to minimise such risks by conducting thorough assessments of each patient's dental health and bone density before proceeding with the implant procedure.
Care after implant
Maintaining your dental implants is similar to caring for your natural teeth. Regular brushing and flossing, along with routine dental check-ups, are crucial to prolonging the lifespan of your implants. At our clinic, we provide personalised advice and education on best practices for oral hygiene to ensure your implants and your natural teeth remain in optimal condition.
How do All on 4 implants differ from traditional dental implants?
The key difference between All-on-4 and traditional dental implants is the number of implants and their strategic placement. While traditional dental implant procedures often require six to eight implants per jaw, the All-on-4 technique only needs four. Furthermore, the All-on-4 procedure typically avoids the need for bone grafting, making the process faster and more comfortable for patients.
What's the rate of success with the All on 4 dental implant procedure?
The All-on-4 dental implant procedure boasts a high success rate. Research studies show a success rate of up to 98%. Our dental team at Wimpole Street Dental Clinic is exceptionally skilled and experienced in implantology, which contributes to our ability to achieve successful results for our patients consistently.
Where to get All-on-4 dental implants in the UK
Wimpole Street Dental Clinic, centrally located in London, is one of the leading providers of All-on-4 dental implants in the UK. Our highly experienced dental team, innovative technology, and commitment to delivering exceptional patient care make us the ideal choice for patients seeking the best dental implant services.
Restore your smile in a day. Book an appointment now.
Our modern dental practice just down the road from Harley Street is fast becoming the home of cosmetic dentistry in London.
We offer All-on-4 dental implants to patients who are deemed suitable by our dentists at the initial consultation stage.
All-on-4 patients can restore their smile with a same-day procedure that leaves them with natural-looking teeth that are comfortable, durable and beautiful.
Related Treatments
Dental implants are titanium screws that replace the former root of a tooth. New restorations can then be placed onto…
When did we last update this page?
Our expert team continually update and research the latest news and techniques in dentistry, as such we regularly update our pages and have these clinically reviewed.
Current Version
27th September 2023
Added YouTube case study video and merged a number of FAQs for ease of reading.
Written by: Prof Dr Christian Mehl
Medically reviewed by: Dr Raul Costa
Previous Versions
July 21st 2023
Added "when did we last update this page" and author biography to the page.
Written by: Prof Dr Christian Mehl
Medically reviewed by: Dr Raul Costa
October 2nd 2022
Page redesigned and updated to reflect change in address.
Written by: Prof Dr Christian Mehl
Medically reviewed by: Dr Raul Costa
30th August 2021
Original content created.
Written by: Prof Dr Christian Mehl
Medically reviewed by: Dr Raul Costa
Wimpole St Dental Clinic has strict sourcing guidelines and relies on peer-reviewed studies, academic research institutions, and medical associations. We avoid using tertiary references. You can learn more about how we ensure our content is accurate and current by reading our editorial policy.
Mehl C, Kern M, Zimmermann A, Harder S, Huth S, Selhuber-Unkel C. Impact of Cleaning Procedures on Adhesion of Living Cells to Three Abutment Materials. Int J Oral Maxillofac Implants. 2017 Sep/Oct;32(5):976-984. doi: 10.11607/jomi.5630. PMID: 28906501.
Mehl C, Kern M, Schütte AM, Kadem LF, Selhuber-Unkel C. Adhesion of living cells to abutment materials, dentin, and adhesive luting cement with different surface qualities. Dent Mater. 2016 Dec;32(12):1524-1535. doi: 10.1016/j.dental.2016.09.006. Epub 2016 Oct 4. PMID: 27717514.
Mehl C, Harder S, Wolfart M, Kern M, Wolfart S. Retrievability of implant-retained crowns following cementation. Clin Oral Implants Res. 2008 Dec;19(12):1304-11. doi: 10.1111/j.1600-0501.2008.01587.x. PMID: 19040447.
Chan MH, Nudell YA. All-on-4 Concept Update. Dent Clin North Am. 2021 Jan;65(1):211-227. doi: 10.1016/j.cden.2020.09.014. Epub 2020 Nov 2. PMID: 33213711.
Soto-Penaloza D, Zaragozí-Alonso R, Penarrocha-Diago M, Penarrocha-Diago M. The all-on-four treatment concept: Systematic review. J Clin Exp Dent. 2017 Mar 1;9(3):e474-e488. doi: 10.4317/jced.53613. PMID: 28298995; PMCID: PMC5347302.
Taruna M, Chittaranjan B, Sudheer N, Tella S, Abusaad M. Prosthodontic perspective to all-on-4® concept for dental implants. J Clin Diagn Res. 2014 Oct;8(10):ZE16-9. doi: 10.7860/JCDR/2014/9648.5020. Epub 2014 Oct 20. PMID: 25478475; PMCID: PMC4253293.