A certified implantologist and prosthodontics specialist with 20+ years in dentistry, I conduct clinical research, teach at University of Kiel, and contribute to implant system development. Recipient of the Camlog Research Award, I frequently publish and deliver global lectures.
A visit to your dental hygienist at Wimpole Street Dental Clinic has been designed to be as painless as possible. Our expert team also aim to make it as informative as possible, as well. Proactively work with us to schedule in six monthly appointments (or more frequently if needed) so together we restore not just your smile and mouth comfort but your personal confidence too.
1. Identify oral health issues early
An expert physical examination of your mouth, gums and teeth is the most effective way to spot any oral health issues which may be present. A dental hygienist can help pinpoint dental problems like periodontitis (gum disease), abscess, infection, tooth decay and bad breath. Your dental hygienist can then liaise with your dentist on your behalf to decide on and agree with you on the best dental care plan and treatment, should such issues arise.
2. Champion your own general health
Did you know that poor oral health has been linked to increase the risk for general health conditions such as heart disease, heart attacks and stroke? One way to champion your own general health is to book a dental hygiene appointment. Periodontitis, in particular, is a progressive gum health condition which, if left untreated can lead to bone loss in the mouth, tooth loss and even allow bacteria to enter the bloodstream. It can cause further health complications like diabetes and it can impact pregnancy.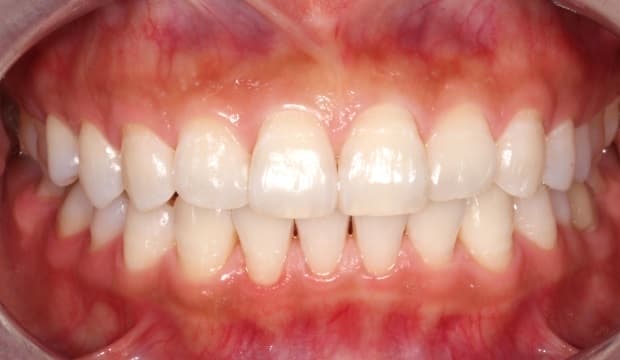 01
Even if you think the teeth are perfectly clean…
02
…if you disclose the bacteria with dye you see why a regular dental hygiene is needed.
3. Receive expert help and advice
You can also benefit from attending a dental hygiene appointment by a member of our expert team's knowledge sharing on everything from the best electric toothbrushes, floss material and interdental brushes for your oral health regime at home – to the best guidelines available on nutritional best practice to keep tooth decay at bay. At our London clinic, we send our prevention team, including our dental hygienists, on regular continued professional development courses (CPD), to ensure their knowledge, skills, information and advice is offered with the highest quality care to our patients.
4. Restore your radiant smile
Did you know that at Wimpole Street Dental Clinic we have invested in a brand new EMS prophylaxis master? We are determined to ensure that our dental hygiene appointments are delivered with the minimum of discomfort and our new EMS system shows us how. Tools such as disclosure dye to accurately deploy our cleaning efforts to a bicarbonate powder/water mix delivered with (AIRFLOW® and PERIOFLOW®) innovative technology or even piezoceramic instruments (PIEZON® PS No Pain) if needed – or even hand-held ultrasonic tools – are all used with the patient's comfort in mind. An added benefit (and so another reason to attend!) is that this treatment can remove almost any staining and in some cases brightens teeth which means you may not need an additional tooth whitening treatment at all.
5. Enjoy the benefits of an expert clean
Our highly skilled dental hygienists have the latest in innovative technology and hand held tools to deliver the very highest standards in professional tooth cleaning today. Why not look forward to your appointment, knowing that when you leave your teeth will be the cleanest, shiniest and polished they have been since you last attended. These standards just cannot be attained through just your own oral hygiene regime at home, however optimised. Smile with confidence!
6. Ask questions of your dental hygienist which you may not ask your dentist
An appointment with your dental hygienist gives you plenty of time for consultation. You may feel more comfortable asking your dental hygienist questions about a forthcoming procedure of which you are currently anxious about – such as a root canal treatment or a dental crown. Your dental hygienist can offer you more information about it or signpost you to a colleague who can – before your scheduled treatment appointment with your dentist.
7. Overcome dental shame and/or dental phobia
If you have not committed to regular attendance with your dentist or your dental hygienist you may be suffering from dental shame or dental phobia. At Wimpole Street Dental Clinic, we would encourage the first step to move forward could be to contact us to make a dental hygiene appointment. With beautifully clean teeth you may feel more confident to face a dental consultation to remedy your oral health, should you need to.