If your dentist has recommended that you now receive a partial crown you may be wondering just how is a partial crown fitted? One way to answer this question is to reassure you that, at Wimpole Street Dental Clinic, a partial crown is always fitted with the utmost bespoke care.
A partial crown is designed to restore both an intact and stable biting surface plus enable you to smile with ease, renewing both personal mouth comfort and confidence. If a tooth filling no longer presents the ideal resolution to replace a more substantial loss of tooth substance; then a partial crown can very effectively repair a larger cavity.
So, how is a partial crown fitted? Here is our guide to explain to you the step by step we offer, here in clinic.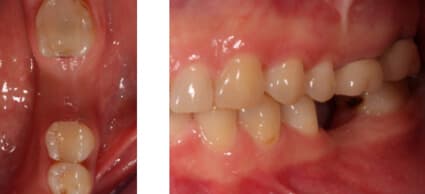 01
A patient with a gap in the position of the first molar and a tooth with a decay underneath a large composite filling (brown spot) behind the gap.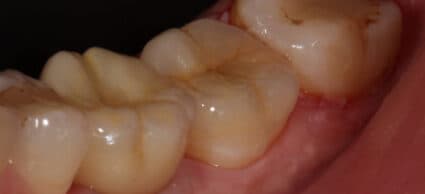 02
The gap was treated with an implant supported crown and the tooth behind received a partial crown which is barely visible.
Our step by step guide
At your booked appointment for consultation, you can discuss if a partial crown is the right treatment option for you in your individual case and as presented.
At your treatment appointment, if you proceed, we begin with you receiving a local anaesthetic. Once this has been administered, your tooth is ground down to the specific shape we need to fit your partial crown perfectly. This minimal invasive dentistry approach removes only the amount of enamel and dentin we deem to be necessary for you so as we can achieve the best possible clinical results.
We take an exceptionally precise tooth impression with our state-of-the-art digital 3D scanner.
At the close of the treatment session, you are provided with a resoin based temporary partial crown while a member of our expert master dental technician team prepares the ceramic inlays or partial crowns in our dental laboratory, for you. Your permanent partial crown can be securely placed using extremely strong adhesive/dental cement after 7-10 days at your next appointment.
As part of our meticulous preparation process when crafting a bespoke inlay or partial crown (onlay), your new teeth are digitally designed using our state-of-the-art CAD (computer-aided design) and CAM (computer-aided manufacturing) technology. This way we can manufacture an inlay or partial crown which fits precisely to your tooth.
At the treatment appointment to fit your partial crown – to bond it to your teeth – a protective dental dam (rubber dam) is applied around the tooth to act as a saliva barrier. This dam helps protect the exposed tooth from new bacteria infecting or harming the bond as it adheres with the aid of dental cement.
Post-treatment, a member of our expert team will provide you with all the aftercare information and advice you may need to care for your newly fitted partial crown as you return home and going forward. Please be aware that temporary tooth sensitivity or discomfort may occur after your partial crown procedure.
As your appointment for the fitting of your partial crown closes, we might recommend a visit to an expert member of our dental hygienist team, to be scheduled at a later stage. We would normally recommend at least one check-up annually with your dentist and a bi-annual visit to the dental hygienist for professional cleaning of your teeth, gums and partial crown.
At your dental hygiene appointment, we can provide further guidance relating to maintaining a healthy oral hygiene regime at home; one which is optimised to specifically protect against further decay and/or damage to your recently fitted partial crown.
Your new partial crown is an investment – not just financially but also in your oral health. Know that a partial crown has an average lifespan of 20 years so it makes perfect sense to care for it at the highest standard from day one. Plus, the partial crowns we manufacture in our master dental laboratories in Germany and the UK guarantee the highest quality in crown function and aesthetics.
Plus, we can take this opportunity to discover just how this small but expertly crafted dental prosthesis is transforming your personal mouth comfort and confidence. We can also resolve any other concerns for you in your relation to your new partial crown, should they arise.
With this handy guide, you now know just what to expect at every step should you opt to receive a partial crown as the next stage of your carefully considered and bespoke dental care plan from Wimpole Street Dental Clinic.
If you would like to find out more then please contact us when you are ready. A member of our Management and Receptionists team would be delighted to answer your call or email and to book an initial consultation for you with a dentist here in clinic.
| | |
| --- | --- |
| What does PARTIAL CROWN cost? | |
| Single onlay (partial crown) | £1,600 |
| Multiple onlays (partial crowns) | £1,200 |
Are you ready to restore your smile?
The full amount you pay for your dental crowns varies depending on your personal needs.
Book an appointment today to restore your teeth and feel comfortable and confident in your smile again.