If a partial crown or a full crown has been recommended for you, know that they are designed to save your teeth. If your affected tooth has been damaged by extensive tooth decay, yet it is still viable, the clinical priority is to provide the highest quality tooth restoration possible – such as those we deliver each and every day, at Wimpole Street Dental Clinic.
A partial crown, often made from dental porcelain, can be recommended as the optimal way to restore a considerable amount of lost tooth substance when a tooth filling itself can no longer offer the best remedy. A partial crown is particularly suited to restoring the optimal functionality of an intact and stable biting surface within the mouth, so you can once again consume food and drink with ease and in comfort. It is much more than a tooth filling, the partial crowns we fit have been both digitally designed and bespoke crafted to achieve the perfect aesthetic match in colour, shape and size, so they are virtually indistinguishable from natural teeth. A partial crown restores larger cavities and it covers at least one tooth cusp.
A full crown, made from modern, high-performance ceramic, can be recommended for extensively damaged teeth requiring comprehensive restoration. As the name suggests a full crown is essentially a tooth-shaped cap designed to protect, strengthen and conceal a damaged tooth, in its entirety. A full crown acts as a very effective small dental prosthetic for broken teeth which may be decayed, chipped, fractured, already contain large fillings, need restoration after a root canal treatment or even as an option to achieve aesthetic re-contouring of the affected tooth and/or conceal any discolouration.
Both partial crowns and full crowns represent an investment in oral health, general health, mouth comfort and personal confidence – made by design to safeguard your smile.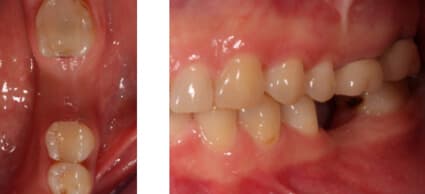 01
A patient with a gap in the position of the first molar and a tooth with a decay underneath a large composite filling (brown spot) behind the gap.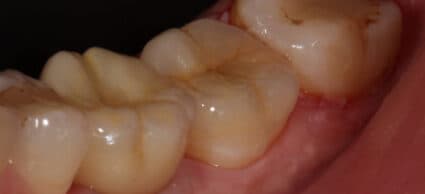 02
The gap was treated with an implant supported crown and the tooth behind received a partial crown which is barely visible.
Special considerations – partial crowns
A partial crown fills the larger cavity within the affected tooth, acting as an artificial replacement for the lost tooth substance but not the tooth itself. It is bonded to your natural tooth, which is still visible but one now restored in terms of the perfect look, size, shape and texture. A partial crown offers you the opportunity to preserve as much of your natural tooth as possible.
When your affected teeth are prepared to receive partial crowns, your dentist removes only the part of the tooth (the enamel and dentin) too decayed or damaged to save. At Wimpole Street Dental Clinic, we practice the principle of minimally invasive dentistry, whenever it is clinically possible to do so.
Our partial crowns which we manufacture in our master dental laboratories in Germany and the United Kingdom, guarantee the highest quality in crown function and aesthetics.
Your partial crown has an average lifespan of 20 years once fitted. You can help to ensure this level of longevity is achievable for you by committing to both the highest standards of oral hygiene at home and by attending a regular schedule of appointments with your dentist and your dental hygienist.
Special considerations – full crowns
A dental crown is fitted over your affected tooth, once cleaned and expertly prepared to receive it, to completely conceal it from view.
We design the full crowns we use in clinic in our own dental laboratory. We have complete control over the finished product and service. We know every component of has been custom-made to the highest standard by an expert member of our team, just for you. Your full crown lasts an average of 20 years or more, once fitted.
It is still possible to develop gum disease or decay under a full crown, once fitted, so we will advise you on the optimal oral hygiene regime to adopt as part of your aftercare advice.
Rest assured that a full crown is bonded in place using strong dental cement or adhesive composite resin cement. We would encourage our patients to trust in our professional expertise to know – once fitted – it is securely anchored without need for further inspection outside of clinic.
Partial crowns and full crowns at Wimpole Steet Dental Clinic – our offer
We can even offer you a combination of partial crowns, full crowns and/or veneers if recommended for you.
Our prosthodontist team have many years of experience in performing complex oral rehabilitations, We can provide the whole spectrum of prosthetic treatments, expertly supported by our team, our facilities in clinic and our state-of-the-art dental technology, all on an in-house basis.
To find out more about partial crowns or full crowns (if recommended by your dentist) please book an appointment with us for consultation.
| | |
| --- | --- |
| What does PARTIAL CROWN cost? | |
| Single onlay (partial crown) | £1,600 |
| Multiple onlays (partial crowns) | £1,200 |
Are you ready to restore your smile?
The full amount you pay for your dental crowns varies depending on your personal needs.
Book an appointment today to restore your teeth and feel comfortable and confident in your smile again.