Maryland Dental Bridges

(Adhesive Prosthetics in London)
In the case of adhesive prosthetics, we replace missing teeth or tooth substance with specially bonded fixed ceramic restorations.
Adhesive prosthetics, involve re-establishing missing teeth or tooth substance with custom fitting resin bonded fixed ceramic dental restorations, which is a minimally invasive procedure for our patients.
What are Maryland dental bridges?
This method is suitable for the aesthetic re-establishment of missing front and back dentition. An adhesive bridge is a fixed bridge functioning as a dental prosthesis to re-establish missing teeth. The dental bridge is adhesively bonded to the acid-etched enamel surface of the adjacent abutment tooth. The anchoring tooth is only minimally prepared and supports the false tooth by means of a metal or ceramic wing.
These bridges are also called Maryland dental bridges as they were developed at the University of Baltimore, Maryland, USA. In contrast to conventional bridges, this method protects healthy tooth substance, since very little dental enamel is removed on the inside surface of the abutment teeth. This procedure is especially suitable for adolescent patients for whom implantation due to future jaw growth is not yet possible. For adults this procedure can be a valuable alternative to consider compared with the dental implants treatment option.
Why choose Wimpole Street Dental Clinic for Maryland bridges?
In our clinic in the heart of the medical district in London we have a highly trained specialist in this area of dentistry in Professor Mehl. With more than 100 Maryland dental bridges placed and several of his peer-reviewed national and international publications in circulation, he is an expert dentist in this specialist field. In addition to his expertise we have the support of our dental technicians who are highly experienced in the use of this resin-bonded dental bridge technique.
A custom-made adhesive bridge can cost less than you might think. Please consult our fees page for more information.
What's the difference between an adhesive bridge vs. implants?
If you need a dental implant you may still be able to consider an adhesive dental bridge. Let us show you what an adhesive bridge is, and how we make them in our video with before-and-after pictures.
Meet your dentists specialising in Maryland Bridges…
Patients at Wimpole Street Dental Clinic choose dental treatment with us because:
We have over 75+ years of combined dentistry experience across our specialist team.
10,000+ treatments performed and counting.
We are leaders in the dental industry – we regularly teach, lecture and publish our research work internationally.
Recently refurbished (2022) centre of dental excellence at our clinic conveniently located in Marylebone – accessible by London Underground, car, taxi, bus and on foot.
We're at the forefront of modern dentistry as demonstrated by our investment in the latest technology and our commitment to teaching the latest and more innovative techniques.
Our own dental laboratory in Munich, Germany help create custom and reliable restorations.
Specialist in prosthodontics & dental implant surgeon
Aesthetic and restorative dentist
Our latest work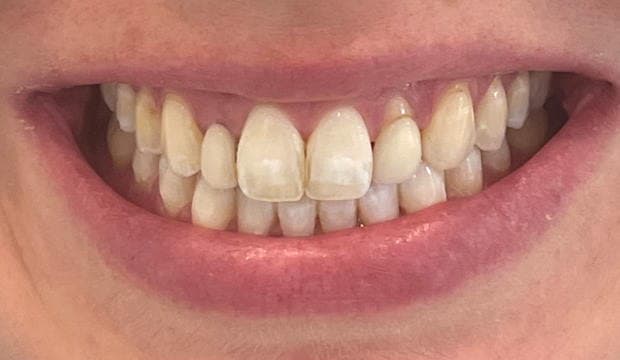 Maryland Bridge and Veneer
The patient had a congenitally missing right lateral incisor which had been replaced with a …
Replacing missing front teeth with Maryland bridges
The two lateral incisors were missing congenitally and had been replaced with a metal supported …
Fields of application
At what age can Maryland dental bridges be used?
If dental implants cannot or should not be used, the adhesive bridge is mostly used for single tooth gaps. The dentition carrying the bridge should be free of caries, cavities and/or fillings. There is only an age limit for two-winged and splinted adhesive bridges in adolescents who are waiting for the eruption of their permanent teeth. Adhesive bridges, which are not used to splint two teeth together, can be used for children and adolescents. Maryland dental bridges are mainly used in adolescents if the teeth are missing congenitally or due to accidents or if a gap has formed after orthodontic treatment. In adults, the most common cause of tooth loss is due to gum disease or a failing root canal treatment.
How many teeth can a Maryland bridge replace?
Adhesive dental bridges or Maryland bridges are a way to re-establish congenitally or otherwise missing front or back teeth easily, quickly and beautifully. We cement the bridges invisibly to one or two healthy neighbouring teeth. The adhesive dental bridge should not generally re-establish more than one tooth in the upper front and back areas of the mouth. In the lower front region of the teeth, a maximum of four teeth should be replaced and only if the jaw is straight in this region. Large back molars cannot be replaced with adhesive dental bridges because the chewing forces in this area are too great and they risk fracturing the bond between the bridge and the tooth enamel.
How should a Maryland dental bridge be designed?
We have the choice between using double-winged or single winged adhesive bridges. At your consultation at our clinic in London, we will decide together your best treatment option in this case and as presented. We nearly always recommend a single winged all-ceramic adhesive bridge, as it has been proven in various scientific studies to be an extremely reliable treatment option. If you are interested to observe how we have solved a handful of cases with Maryland dental bridges please visit our video library.
What materials to choose?
The most common choices are metal-ceramic or all-ceramic (porcelain) to create an adhesive dental bridge. Porcelain bridges are, however, superior to metal-ceramic bridges in terms of aesthetics and biocompatibility. If metal wings and framework are your preferred choice then a non-precious alloy is favourable. The best material for this type of dental bridge, however, is zirconium dioxide.
What are the preconditions for a Maryland bridge?
An important prerequisite for the treatment of adhesive bridges is the adjacent (abutment teeth) being free from caries or cavities and to have sufficient tooth enamel. The intact enamel is needed to bond the false tooth – the cantilever – durable to the adjacent teeth. Smaller fillings in the abutment teeth can be left in place, but should be specially treated (conditioned) before the dental bridge is bonded and should be fully enveloped by the bridge's wings.
It is also important that the size of the gap corresponds to the tooth to be replaced for the perfect fit. If you grind or press your teeth, this issue needs to be considered. If you have already received orthodontic treatment, an eight to six week retention phase (no more active movement of the teeth) should be honoured prior to the insertion of an adhesive bridge. In all guidelines for all-ceramic crowns and bridges, single-wing all-ceramic adhesive bridges are listed and recommended as an evidence-based therapy. In addition, single-span adhesive bridges with ceramic frameworks to replace single or two incisors that are missing next to each other are now the standard in dental care during adolescence to address this dental problem.
Who is not suitable for dental bridges?
In order to achieve the best result possible when restoring your smile with this type of dental bridge, there are certain conditions to meet. It is important that the degree of rotated or tilted teeth is not too great and that the present gap should always fit the width of the prospective false tooth. The adhesive surface on the anchoring tooth immediately next to the pontic (false tooth) should be sufficiently large enough to accommodate it. If it is so low due to fillings, abrasions, or other circumstances then the adhesive bridge cannot be guaranteed to hold, so a dental prosthesis with an implant should be considered. Other dental treatments are also preferred if the patient practices contact sports (e.g. boxing, karate, ice hockey, etc.). In the case of a very deep bite, grinding and pressing of the teeth, caution is also required when using adhesive bridges, since in these cases they are exposed to pressures which can lead to the loss of the denture (debonding).
When did we last update this page?
Our expert team continually update and research the latest news and techniques in dentistry, as such we regularly update our pages and have these clinically reviewed.
Current Version
July 21st 2023
Added "when did we last update this page" and author biography to the page.
Written by: Prof Dr Christian Mehl
Medically reviewed by: Dr Raul Costa
Previous Versions
October 2nd 2022
Page redesigned and updated to reflect change in address.
Written by: Prof Dr Christian Mehl
Medically reviewed by: Dr Raul Costa
30th August 2021
Original content created.
Written by: Prof Dr Christian Mehl
Medically reviewed by: Dr Raul Costa
Wimpole St Dental Clinic has strict sourcing guidelines and relies on peer-reviewed studies, academic research institutions, and medical associations. We avoid using tertiary references. You can learn more about how we ensure our content is accurate and current by reading our editorial policy.