Dental Implants in London
Implants are simply titanium screws replacing the former roots of a tooth. They are precisely placed into the jawbone socket under sterile conditions and using local anaesthesia in surgical treatment. Once the implant has healed into the bone, a full ceramic final restoration is placed. They are produced using our state-of-the-art technology to deliver a perfect match to the look and feel of your natural teeth.
You may need to consider this field of specialist dentistry concerned with replacing teeth if you have a gap in your smile impacting both your personal comfort and confidence for reasons both practical and aesthetic.
Treatment Duration
30 mins – 5 hours
Price
From £2000/implant

Combined Team Experience
50+ years
Recovery Time
1 – 14 days
Our Google Rating
★★★★★ (4.9)
Who is suitable for dental implants?
Implants are normally a procedure for adults with a fully formed jaw who may have one or more missing teeth. Dental patients in good general and oral health without presenting with extensive tooth decay or gum disease, who are not taking immunosuppressant medications, who are not regularly clenching or grinding teeth, and who refraining from smoking more than five cigarettes daily are considered at consultation.
Each case presents differently so trust your dentist here at Wimpole Street Dental Clinic to be in the best position to advise if dental implants are suitable for you on this occasion.
Prices of Implants in London





Implant placement (per implant)
FROM

£

2,200
Sinus tap per implant
FROM £500
Simple implant exposure per implant
FROM £400
Implant Crown (anterior)
FROM £2,100
Implant Crown (posterior)
FROM £1,800
Extra Implants for the all-on-4 procedure – per implant
FROM £2,000
Wimpole Street Dental Clinic are specialists in implantology
Dental implants are a popular choice for patients looking to restore and improve their smile. We have decades of combined experience in implantology as well as all the latest and most innovative technology and techniques to help deliver the best results.
We offer a wide variety of implants to suit every patient's needs, budget and circumstances, even if you're looking for same-day implants, our team can help.
Our Reviews
Natalia Sassoon
2023-06-10
Great service and care with Dr Shravan. Highly recommend his service and the clinic for all their help. Thank you!
Bianca Skinner
2023-06-05
Excellent practice! Such a lovely practice. I have been a client of Raul Costa's for many years. He is incredibly professional, experienced and I trust him completely.
Hi, I have been recommended to Wimpole Street Dental Clinic. Booked an appointment for check up. My Dentist was Dr. Raul Costa. During the check up, some issues were discovered. Everything was explained into detail, and with the beat solution's. On the spot Dr. Raul Costa has dealt with the minor issues, which it was really great and helpful. For my next appointment, we had to work for at least 1 and a half hour. To be honest I am not really good in sitting for so long in a dentist chiar, and doing all sorts of procedures. But Dr. Raul Costa made it look, and feel very easy taking and comfortable. To be honest at one point I did fell asleep, which this never happened to me, during dental practice to my body. I am more than happy with the results, and also with the type of quality materials used. I have already recommended the clinic and Dr. Raul Costa to a few friends and family, which they already been there, and they are very happy. Can highly recommend Wimpole Street Dental Clinic, Dr. Raul Costa and all their professional stuff. Alex
Verity Wilkinson
2023-05-10
I can't recommend the clinic enough! I am a nervous person when it comes to dentistry but was made to feel immediately at ease by all the staff. Christian and his team are incredible!
Alexander Higgs
2023-02-22
Expertise shown by Dr S Chawla was excellent, calmed any nerves I had and let me know everything that was going to happen before doing anything. Gave a detailed plan and was able to answer any question I had for him. Unfortunately 2 Bitewing X-rays did not load so was exposed to unnecessary radiation. Hope they correct this Fault for future patients.
I've had fixed implants( top and bottom) at this clinic . I could not be happier with the result. Dr Dejan Dragisic preformed the procedure and I can not recommend him highly enough . The whole team at this clinic are very professional, helpful and friendly . Dr Dejan Dragisic explained the whole procedure and put my mind at rest the whole whole time I was in the chair . I had very little pain afterwards . Worth every penny .
Excellence. I can't say this enough. Just Excellence, from the moment I walked in to when I left. I was very nervous after bad experiences over many, many years with other dental practices, resulting in me not going to a dentist. The receptionists were very kind and understanding, making me feel at ease. Prof Dr Christian Mehl was extremely patient, respectful, attentive, and assuring, and he explained everything to me. My treatment was smooth and flawless, with absolutely no pain. He is, without a doubt, a true professional. I have my faith restored, but most of all, I have finally, finally found a dental clinic and a dentist I can trust. I can't thank everyone enough. I don't normally write or trust reviews. If you are reading this, then I assure you, you can trust this one.
Bernhard Raschke
2023-01-17
Brilliant team (receptionists, dentists, nurses), brilliant patient experience and top quality work. Real professionals with a big heart!
Donna Williams
2023-01-15
6 star service and care! What a fabulous experience- worth every £. Exceptional dentistry from surgeon Dr A El-Awa , top tech used to ensure my 2nd molar was extracted in the most efficient, comfortable ( pain free) and caring, personal manner. Unbelievably well treated by all staff, front desk to Dr's assistants Alice and Anna. Simply beyond expectations. Thank you ! Don't hesitate to book this top class, clean and professional clinic. Off the charts, excellent. Actually looking forward to the follow up treatment programme for the rest of my mouth!! And I came up from Brighton to Central London for this. Well done. Best £££'s worth in a very long time!
Natural looking implants made with the highest quality materials
Why is Wimpole Street Dental Clinic best for
dental implants in London?
The use of dental implants is a specialist field of dentistry called Implantology and forms one of the dental restoration options available to you within Prosthodontics, Periodontics, and Oral Surgery. This level of expertise for this dental procedure is one where you need to consult the skills of a certified master of their profession.
At Wimpole Street Dental Clinic, we have Professor Christian Mehl a specialist prosthodontist certified by the German Society of Prosthodontics (DGPro), The German Society of Implantology (DGI) and the General Dental Council (GDC), Mr Abdurahman El-Awa and Dr Dragisic a Specialist Oral Surgeon (GDC). All three have decades of experience, publish peer-reviewed publications and lecture regularly.
We can offer you a choice of dental implants and treatment options including conventional delayed titanium implants and more modern approaches from zygomatic implants to immediate implants to teeth-in-a-day. Plenty of implants variety for you to choose from in consultation with a member of our team. Rest assured that we have many years of combined dentistry experience and use the very latest technology and methods to achieve our award-winning results.
Immediate implants, sometimes known as 'same-day implants' are where a dental implant is directly placed into the extraction socket of the former tooth. The benefit of same-day implants (or 'immediate implants') is that it is a surgical procedure that is more convenient for the patient, meaning that the socket is exposed for a shorter period of time (thereby reducing the risk of infection). Additionally, the placement of same-day implants associated with a temporary keeps the bone and soft tissue in better condition and guarantees a better aesthetical result.
We are experts and skilled at immediate implant placement and our London dental clinic is fully equipped with the latest innovative immediate implant technology that allows us to deliver effective, reliable and swift results.
Meet our dentists who are experts in Dental Implants…
We have over 75+ years of combined dentistry experience across our specialist team.
10,000+ treatments performed and counting.
We are leaders in the dental industry – we regularly teach, lecture and publish our research work internationally.
Our latest work
Immediate implants and restoration to replace failing front teeth
The patient had an accident as a child now resulting in four failing front teeth …
Immediate implants for a broken front tooth
The patient had extensive treatment a few years ago and now has a lower front …
What happens when dental implants are fitted?
After consultation, if you agree to receive a dental implant, your dentist will use photos, a 3D X-ray and a digital scan of your teeth to prepare to proceed with our computer-guided implant operation for you.
Rest assured you will receive appropriate anaesthesia before the procedure begins.
We access the bone by way of a small incision so as to place the dental implant into the prepared jaw bone socket. In 99% of our dental implant cases, we use a titanium implant.
Post-procedure and after a short healing period, the implant is exposed to the oral cavity and another digital impression is taken by your dentist to evaluate the success of the treatment and to prepare for the final restoration.
Two weeks to six months later, the final restoration is conducted using a crown, bridge or denture as required and the placement is completed. If you want immediate same-day implants, your treatment plan is likely to be slightly different but your dentist will explain in full what is required for immediate implant placement on the same day.
How does a dental implant work?
Illustration of the insertion of an implant
01
Step 1: Opening of the oral mucosa
02
Step 2: Drilling and insertion of the implant
03
Step 3: Exposing the implant to the oral cavity and closing it with a healing cap
04
Step 4: The implant supported restoration is either cemented or screwed to the artificial root (the implant)
Frequently asked questions
Do you have to brush dental implants?
Dental implants are an artificial method of replacing teeth so they are not susceptible to tooth decay but they still need to be cleaned and cared for with an electric toothbrush, dental floss and interdental brushes.
Do dental implants feel natural?
A dental implant is an artificial restoration of a missing tooth in the mouth. It is a prosthesis you will not be able to feel as a natural tooth with a nerve ending but it will be a perfect match to the look and feel of your surrounding teeth and form an integral part of your restored smile and match the colour of your surrounding natural teeth.
How long does it take to fit a dental implant?
The duration of your dental implant treatment varies depending on how many you require. It usually takes a couple of hours to fit one immediate dental implant to cover one missing tooth. Immediate dental implants are ideal for patients who want to resolve the issue quickly and effectively. Immediate implants are also beneficial for the patient's oral health as they ensure that the open socket isn't exposed for too long to bacteria and potential infection.
Can you have dental implants with receding gums?
Receding gums, often the result of the advanced stages of periodontitis can make it too difficult to receive a dental implant as the artificial root needs the support of healthy gums, jawbone and soft tissue around the jaw to secure it successfully within the mouth. Should this be a concern for you, contact us to book an appointment.
How long will a dental implant last?
Standard dental implants can last for approximately 20-30 years depending on how well you look after them once fitted.
How much do dental implants cost?
You can take our current dental implant fees from the table above.
Dental implants represent a significant investment in the restoration of your smile including the preservation of your personal comfort and confidence and your oral health.
If you're seeking immediate implant placement or "same-day dental implants" then it is likely that the cost for this dental procedure will be higher than spreading out the treatment over a number of weeks. This is because this same-day implant treatment requires greater expertise and time to complete on the same day.
It requires a considerable amount of precise preparation and the skills of an expert in implantology and prosthodontics to deliver it to ensure the greatest level of clinical success which we, at the Wimpole Street Dental Clinic, are proud to provide as leaders in this field of dentistry.
Can everyone get dental implants?
Circumstances can arise which may mean that dental implants are not a suitable treatment for all. These include patients presenting with extensive tooth decay or gum disease, patients taking immunosuppressant medications, patients who regularly clench or grind their teeth and patients smoking more than five cigarettes daily. Your dentist will always inspect your teeth and jaw in order to see if the jaw and surrounding area are strong enough to support implants.
Please book an appointment at our London clinic to discuss the possibility of receiving same-day dental implants with a member of your team in your individual case for the best advice.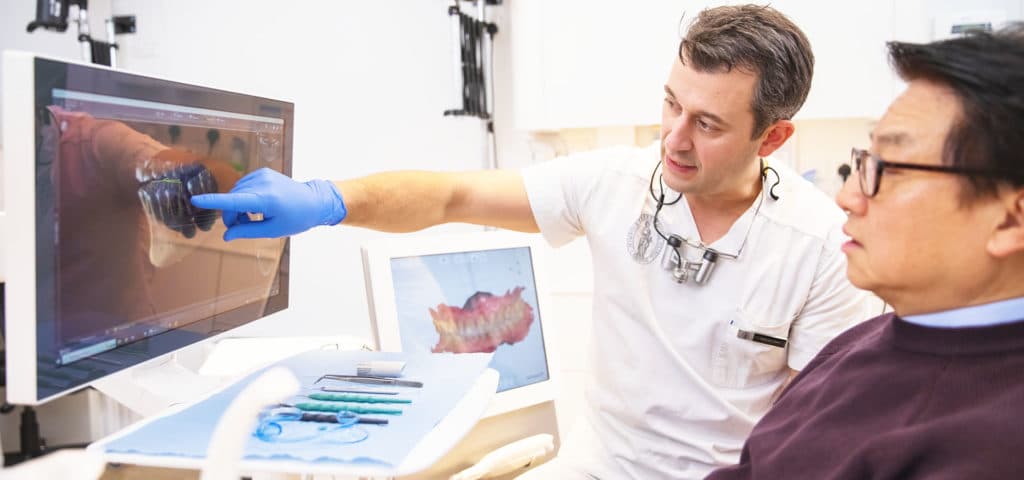 Are dental implants safe?
This dental surgery is a well-established treatment option within the specialist field of implantology within prosthodontics. Please make an appointment to consult Professor Christian Mehl at Wimpole Street Dental Clinic where he would be delighted to answer any questions you may have regarding the safety and efficacy of this procedure.
When should dental implants not be used?
Dental implants are a popular option for replacing missing or damaged teeth. However, it is important to note that they may not be suitable for everyone. Factors that may prevent a person from being a good candidate for dental implants include poor overall health, certain medical conditions, heavy smoking or alcohol use, and insufficient bone density in the jaw. A consultation with a dental professional is necessary to determine whether dental implants are a viable option for you.
When do dental implants make sense?
It depends on the individual case and the patient's specific needs and goals. A consultation with a dental professional would be necessary to determine if dental implants are the best course of treatment.
What advantages does modern implantology offer?
Modern implantology offers several advantages. Implants can closely mimic the appearance of natural teeth, making them a good option for people who want to improve the appearance of their smile.
Implants are made of strong, biocompatible materials, such as titanium, which can last for many years. Dental implants can help preserve the jawbone by providing stimulation that mimics the natural forces of biting and chewing. Implants can help restore the ability to chew and speak properly, and can also help prevent the shifting of surrounding teeth.
Dental implant treatment is a long-term solution for missing teeth and generally has a high success rate.
Related Treatments
All-On-4 dental treatment can be preferable for patients who require extensive dental restoration. Rather than placing individual implants (which can…
When did we last update this page?
Our expert team continually update and research the latest news and techniques in dentistry, as such we regularly update our pages and have these clinically reviewed.
Current Version
July 21st 2023
Added "when did we last update this page" and author biography to the page.
Written by: Prof Dr Christian Mehl
Medically reviewed by: Dr Raul Costa
Previous Versions
October 2nd 2022
Page redesigned and updated to reflect change in address.
Written by: Prof Dr Christian Mehl
Medically reviewed by: Dr Raul Costa
30th August 2021
Original content created.
Written by: Prof Dr Christian Mehl
Medically reviewed by: Dr Raul Costa
Wimpole St Dental Clinic has strict sourcing guidelines and relies on peer-reviewed studies, academic research institutions, and medical associations. We avoid using tertiary references. You can learn more about how we ensure our content is accurate and current by reading our editorial policy.
Mehl C, Kern M, Neumann F, Bähr T, Wiltfang J, Gassling V. Effect of ultraviolet photofunctionalization of dental titanium implants on osseointegration. J Zhejiang Univ Sci B. 2018 Jul;19(7):525-534. doi: 10.1631/jzus.B1600505. PMID: 29971991; PMCID: PMC6052363.
Harder S, Podschun R, Grancicova L, Mehl C, Kern M. Analysis of the intraimplant microflora of two-piece dental implants. Clin Oral Investig. 2013 May;17(4):1135-42. doi: 10.1007/s00784-012-0805-2. Epub 2012 Sep 8. PMID: 22961460.
Becker M, Schmied F, Kadem LF, Freitag-Wolf S, Naujokat H, Mehl C, Kern M, Harder S. Single-cell adhesion of human osteoblasts on plasma-conditioned titanium implant surfaces in vitro. J Mech Behav Biomed Mater. 2020 Sep;109:103841. doi: 10.1016/j.jmbbm.2020.103841. Epub 2020 May 11. PMID: 32543406.
Mehl C, Becker ST, Acil Y, Harder S, Wiltfang J, Dabbagh-Afrouz AA, de Buhr W, Kern M. Impact of vertical loading on the implant-bone interface. Clin Oral Implants Res. 2013 Aug;24(8):949-56. doi: 10.1111/j.1600-0501.2012.02487.x. Epub 2012 Apr 24. PMID: 22524429.
Mehl C, Ali S, El Bahra S, Harder S, Vollrath O, Kern M. Is There a Correlation Between Tensile Strength and Retrievability of Cemented Implant-Retained Crowns Using Artificial Aging? Int J Prosthodont. 2016 Jan-Feb;29(1):83-90. doi: 10.11607/ijp.4317. PMID: 26757337.