Zygomatic Implants in London
Zygomatic implants are particularly long dental implants that are embedded in the cheekbone (medical term: zygomatic bone) when there isn't enough bone tissue in the upper jaw for normal implants. With zygomatic implants, even seemingly-impossible situations can be solved with fixed teeth.
Zygomatic implants are specialised dental implant that is used for patients who don't have enough bone density or height required for a traditional dental implant. This innovative and relatively new treatment can be used to replace teeth located in the upper jaw and can also be used in conjunction with traditional implants depending on the patient's circumstance.
When your dentist assesses your suitability for dental implants, they will look for whether there's enough bone mass for the implants to fuse with. If there is enough bone mass, then they can be confident that over time the dental implants will be structurally sound and fixed to the jaw. However, in some instances patients present with too little bone mass to fuse onto. Traditionally, your dentist might be forced to undertake a procedure called a sinus lift – this is where the bone in between the oral cavity and sinus cavity is artificially thickened to prevent your sinuses from being damaged by the new dental implants and additionally provide more support for the implants. Unfortunately, this often requires the patient to have to undergo this procedure first and then recover before dental implants can be placed.
Zygomatic implants are revolutionary in that rather than needing additional procedures, the dental implants are implanted into the cheekbone (also known as the 'zygomatic bone'). This provides patients without the necessary bone mass in their jaw, to still have the dental implants fitted but just to a different anchor point.
Treatment Duration
4 hours per jaw
Price
From £25,000

Combined Team Experience
15+ years
Recovery Time
7+ days
Our Google Rating
★★★★★ (4.9)
Who is suitable for zygomatic implants?
Zygomatic implants are extra-length dental implants that are anchored to your cheekbone. Your dentist might recommend that you require zygomatic implants if your bone tissue/mass won't provide a strong enough foundation for traditional dental implants. This is often quite common amongst older patients who have worn removable dentures for a long period of time and might have lost some jawbone mass but still want a dental implant fitting.
Fundamentally, dental implants and zygomatic implants are suitable for dental patients who have lost one or more teeth to damage, disease and/or decay and want to replace the affected teeth with a natural-looking implant.
Your dentist may advise that zygomatic implants are a better choice for you if they feel that you should avoid more traditional methods of resolving low bone density. Procedures such as bone grafting where a bone graft is taken from elsewhere to provide support can require up to six months of recovery time and multiple surgical procedures. Zygomatic implant treatment allows your dentist to avoid this by achieving similar results with just one procedure.
What does a zygomatic implant cost?



Zygoma implant supported fixed teeth in a day


from £25,000
We offer finance for any treatment over £1,000 and up to £30,000. The finance calculator below will break down your monthly repayments based on the overall cost of the treatment.
Do you need zygomatic implants in London? Book a consultation with Wimpole Street Dental Clinic today.
Rest assured that when you choose Wimpole Street Dental Clinic, you're not just gaining the benefit of our experienced and highly skilled dentists, but also access to our state-of-the-art and comfortable dental clinic, the latest 3D imaging technology and a highly trained team of dental nurses, sedationists, technicians and dental implantology experts.
Our Reviews
Natalia Sassoon
2023-06-10
Great service and care with Dr Shravan. Highly recommend his service and the clinic for all their help. Thank you!
Bianca Skinner
2023-06-05
Excellent practice! Such a lovely practice. I have been a client of Raul Costa's for many years. He is incredibly professional, experienced and I trust him completely.
Hi, I have been recommended to Wimpole Street Dental Clinic. Booked an appointment for check up. My Dentist was Dr. Raul Costa. During the check up, some issues were discovered. Everything was explained into detail, and with the beat solution's. On the spot Dr. Raul Costa has dealt with the minor issues, which it was really great and helpful. For my next appointment, we had to work for at least 1 and a half hour. To be honest I am not really good in sitting for so long in a dentist chiar, and doing all sorts of procedures. But Dr. Raul Costa made it look, and feel very easy taking and comfortable. To be honest at one point I did fell asleep, which this never happened to me, during dental practice to my body. I am more than happy with the results, and also with the type of quality materials used. I have already recommended the clinic and Dr. Raul Costa to a few friends and family, which they already been there, and they are very happy. Can highly recommend Wimpole Street Dental Clinic, Dr. Raul Costa and all their professional stuff. Alex
Verity Wilkinson
2023-05-10
I can't recommend the clinic enough! I am a nervous person when it comes to dentistry but was made to feel immediately at ease by all the staff. Christian and his team are incredible!
Alexander Higgs
2023-02-22
Expertise shown by Dr S Chawla was excellent, calmed any nerves I had and let me know everything that was going to happen before doing anything. Gave a detailed plan and was able to answer any question I had for him. Unfortunately 2 Bitewing X-rays did not load so was exposed to unnecessary radiation. Hope they correct this Fault for future patients.
I've had fixed implants( top and bottom) at this clinic . I could not be happier with the result. Dr Dejan Dragisic preformed the procedure and I can not recommend him highly enough . The whole team at this clinic are very professional, helpful and friendly . Dr Dejan Dragisic explained the whole procedure and put my mind at rest the whole whole time I was in the chair . I had very little pain afterwards . Worth every penny .
Excellence. I can't say this enough. Just Excellence, from the moment I walked in to when I left. I was very nervous after bad experiences over many, many years with other dental practices, resulting in me not going to a dentist. The receptionists were very kind and understanding, making me feel at ease. Prof Dr Christian Mehl was extremely patient, respectful, attentive, and assuring, and he explained everything to me. My treatment was smooth and flawless, with absolutely no pain. He is, without a doubt, a true professional. I have my faith restored, but most of all, I have finally, finally found a dental clinic and a dentist I can trust. I can't thank everyone enough. I don't normally write or trust reviews. If you are reading this, then I assure you, you can trust this one.
Bernhard Raschke
2023-01-17
Brilliant team (receptionists, dentists, nurses), brilliant patient experience and top quality work. Real professionals with a big heart!
Donna Williams
2023-01-15
6 star service and care! What a fabulous experience- worth every £. Exceptional dentistry from surgeon Dr A El-Awa , top tech used to ensure my 2nd molar was extracted in the most efficient, comfortable ( pain free) and caring, personal manner. Unbelievably well treated by all staff, front desk to Dr's assistants Alice and Anna. Simply beyond expectations. Thank you ! Don't hesitate to book this top class, clean and professional clinic. Off the charts, excellent. Actually looking forward to the follow up treatment programme for the rest of my mouth!! And I came up from Brighton to Central London for this. Well done. Best £££'s worth in a very long time!
Experienced & skilled in zygomatic implants in London
What happens during
zygomatic implant treatment?
Like all dental implant treatments, we always start with a thorough and robust inspection of your mouth to make an assessment regarding what treatment you're most suited for. At your initial consultation in our London dental practice, your dentist will talk through your dental hygiene routine and history and then will make a closer inspection of the affected areas you wish to treat.
We will first make photos, stone plaster models of your teeth and a three-dimensional X-ray (CBCT). This is necessary to accurately determine an implant placement and length. The position of the implants is planned virtually on the computer. The position of the newly designed teeth which are visible in the 3D image serves as an orientation aid. This position is transferred into a drilling template.
If your dentist feels that zygomatic implants are the best option for you, he/she will then book you in for an appointment to revisit the dental practice. Your dentist will talk you through what happens during the treatment, what you can expect and what you should do before and after the procedure.
On the day of the treatment, you will arrive at our central London dental clinic where you'll be greeted by our reception team. Your dental surgeon will confirm you're happy to have the treatment and are in good health. You will likely receive some sedation to make sure that you're not in any pain during the treatment.
The entire procedure can take up to 7 hours which breaks down into 4 hours of treatment, 2 hours in observed recovery and then 1 hour of placing the temporary denture on the same day. The treatment works by fixing a replacement bridge using four dental implants. The zygomatic dental implants are longer in length so they can be surgically anchored to the cheekbone. After the zygomatic implants have been placed, the implant positioning is transferred onto a stone plaster model with an impression.
Our dental technicians then construct a bridge, which can be screwed onto the new implant. Due to the very solid bone tissue of the zygomatic bone, the implant and the restoration can usually be used straight after the surgery with soft food.
When the treatment is finished by our implantology specialist, you'll be asked to wait 1 hour in recovery so we can be sure you're fine to leave us. Most zygomatic implant procedures can be done on the same day.
Why is Wimpole Street Dental Clinic best for
zygomatic implants in London?
Zygomatic implants are a relatively new treatment having only been first undertaken in the 1990s, as such this procedure isn't often offered widely in the dentistry industry. Reasons, why you should pick Wimpole Street Dental Clinic, include:
Our recently refurbished dental clinic is situated on the prestigious Wimpole Street in the heart of London (the General Dental Council are our neighbours!). Our convenient location makes us ideal for workers in the city and our practice is accessible by car, bus, taxi, or London Underground.
We've invested in the latest state-of-the-art dental imaging technology to use 3D images of your mouth to help create the most accurate and comfortable implants.
Our specialist team have decades of combined experience in dental implants and is regularly at the forefront of the latest dental innovations as demonstrated by our extensive experience lecturing, teaching and regularly contributing to scientific research.
Our dental practice not only has its own in-house sedationists but also an expert and highly skilled dental surgeon team specialising in dental implants.
Meet our dentists who are experts in Zygomatic Dental Implants…
We have over 75+ years of combined dentistry experience across our specialist team.
10,000+ treatments performed and counting.
We are leaders in the dental industry – we regularly teach, lecture and publish our research work internationally.
Our latest work
All-on-4 Dental Implants
We recently had a patient who came to us seeking a solution for their missing …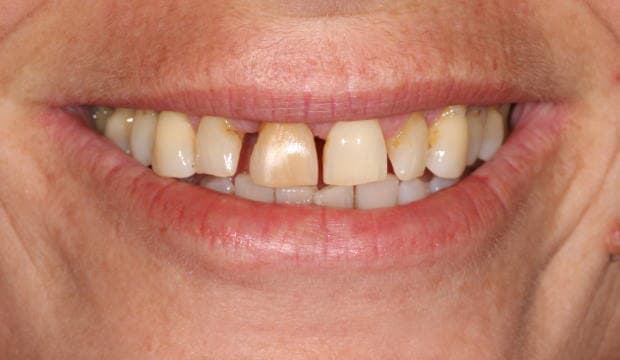 Fixed teeth-in-a-day/All-on-4, Crowns, Bridges and Single Implants
This patient was scared of dentists and did not go to see one for a …
Frequently asked questions
Do zygomatic implants need a bone graft?
In most circumstances, zygomatic implants do not need a bone graft. In most cases, this procedure is undertaken so your dentist specifically doesn't need to undertake a bone graft. This might be because the patient has underlying medical conditions that don't make them suitable for a bone graft, or it may simply be that the patient doesn't want to undertake any further surgical procedures that are sometimes required in bone grafting.
Who needs zygomatic implants?
An implant is used in cosmetic dentistry to replace a decayed, dead or damaged tooth. Implants are natural looking, can be colour matched to the nearby teeth and are just as strong and reliable as natural teeth.
Zygomatic implants are best suited to patients who have low jawbone density or bone loss in their upper jaw and can't/don't want to undertake extensive bone graft surgery. This form of implant dentistry involves anchoring the implant bridge to the cheekbone (zygomatic bone) as an alternative. Patients who have worn removable dentures for several years might have experienced some bone loss over the years and as such, there might not be enough bone mass for traditional dental implant surgery.
Is zygomatic implant surgery painful?
Our patients are sedated during surgery by our in-house sedationist to ensure they feel no pain. It's not uncommon for patients to feel minor discomfort and swelling following the procedure.
What's the difference between bone grafting and zygomatic implants?
In instances where the patient doesn't have enough bone mass or a strong enough jawbone, bone grafting has been used to graft a section of bone to add further mass and stability for the new implants to be implanted. Zygomatic implants do not require bone grafting if the jawbone is found lacking, a zygomatic implant can be used to anchor the implants to the cheekbone instead. This means that the patient doesn't have to undertake multiple surgeries, and many can have their implant installed on the same day.
How to find a dental implant specialist?
Whenever you undergo any type of surgery you want to feel confident that you have the best surgeon for the job. This is no different in dentistry. If you're considering dental implants and think you might be suitable for zygomatic implants rather than other methods such as bone grafting, you need to make sure you find the right dental specialist for the job. Do your research on your specialist and see how experienced and involved there are in the specialism of dental implantology. Most reputable dental practices, such as our own, provide dental staff profiles that list each dentist's qualifications, memberships and additional contributions to dentistry such as scientific research, lectures, publications, and awards.
Related Treatments
All-On-4 dental treatment can be preferable for patients who require extensive dental restoration. Rather than placing individual implants (which can…
When did we last update this page?
Our expert team continually update and research the latest news and techniques in dentistry, as such we regularly update our pages and have these clinically reviewed.
Current Version
July 21st 2023
Added "when did we last update this page" and author biography to the page.
Written by: Prof Dr Christian Mehl
Medically reviewed by: Dr Raul Costa
Previous Versions
October 2nd 2022
Page redesigned and updated to reflect change in address.
Written by: Prof Dr Christian Mehl
Medically reviewed by: Dr Raul Costa
30th August 2021
Original content created.
Written by: Prof Dr Christian Mehl
Medically reviewed by: Dr Raul Costa
Wimpole St Dental Clinic has strict sourcing guidelines and relies on peer-reviewed studies, academic research institutions, and medical associations. We avoid using tertiary references. You can learn more about how we ensure our content is accurate and current by reading our editorial policy.
Aparicio C, Manresa C, Francisco K, Claros P, Alández J, González-Martín O, Albrektsson T. Zygomatic implants: indications, techniques and outcomes, and the zygomatic success code. Periodontol 2000. 2014 Oct;66(1):41-58. doi: 10.1111/prd.12038. PMID: 25123760.
Rawal S, Balshi T, Jivraj S. Restoration of Zygomatic Implants. Atlas Oral Maxillofac Surg Clin North Am. 2021 Sep;29(2):291-299. doi: 10.1016/j.cxom.2021.04.006. Epub 2021 Jun 11. PMID: 34325815.
Alterman M, Fleissig Y, Casap N. Zygomatic Implants: Placement Considerations in Implant-Supported Maxillary Prosthesis. Atlas Oral Maxillofac Surg Clin North Am. 2021 Sep;29(2):173-183. doi: 10.1016/j.cxom.2021.05.002. Epub 2021 Jul 6. PMID: 34325807.
Vega LG, Border M. Zygomatic Implants in Combination with Dental Implants. Atlas Oral Maxillofac Surg Clin North Am. 2021 Sep;29(2):233-241. doi: 10.1016/j.cxom.2021.04.002. Epub 2021 Jun 16. PMID: 34325810.