Inlays in London
If a tooth is damaged by decay, all-ceramic inlays or, in the case of larger defects, onlays or partial crowns can replace the lost tooth substance.
The choice of tooth fillings depends on one hand on the size of the decay, but also on your preferences. We will decide together which option is the right one for you after a thorough discussion of the pros and cons. We will also inform you about any related costs in advance. You will have all the information you need before making a decision.
A tooth that has suffered from decay or trauma can be restored with either composite, also known as white fillings or with ceramic. In this case, the restorations are called inlays, onlays or overlays, depending on their extension. The main difference between these two options is that ceramic restorations have to be manufactured outside of patients' mouths, meaning that they usually require two visits.
Treatment Duration
90 minutes
Price
From £1,500

Combined Team Experience
75+ years
Recovery Time
24 hours
Our Google Rating
★★★★★ (4.9)
Who is suitable for an inlay or partial crown?
The choice of restorative material depends on many factors, such as costs, the extent of damage or simply personal preference. If the damage is relatively small, then your dentist may suggest a simpler but equally effective course of action such as a tooth filling.
However for larger defects, as in the case when replacing very old amalgam fillings, ceramic will perform better in the long run. We will decide together which option is the right one for you after a thorough discussion of the pros and cons. We will also inform you about any related costs in advance. You will have all the information you need before making a decision.
| | |
| --- | --- |
| What does dental inlay cost? | |
| Single inlay | from £1,500 |
| Multiple inlays | from £1,200 |
| Single onlay (partial crown) | from £1,600 |
| Multiple onlays (partial crowns) | from £1,200 |
Are you ready to restore your smile?
The full amount you pay for your inlays or dental crowns varies depending on your personal needs.
Book an appointment today to restore your teeth and feel comfortable and confident in your smile again.
Our Reviews
Natalia Sassoon
2023-06-10
Great service and care with Dr Shravan. Highly recommend his service and the clinic for all their help. Thank you!
Bianca Skinner
2023-06-05
Excellent practice! Such a lovely practice. I have been a client of Raul Costa's for many years. He is incredibly professional, experienced and I trust him completely.
Hi, I have been recommended to Wimpole Street Dental Clinic. Booked an appointment for check up. My Dentist was Dr. Raul Costa. During the check up, some issues were discovered. Everything was explained into detail, and with the beat solution's. On the spot Dr. Raul Costa has dealt with the minor issues, which it was really great and helpful. For my next appointment, we had to work for at least 1 and a half hour. To be honest I am not really good in sitting for so long in a dentist chiar, and doing all sorts of procedures. But Dr. Raul Costa made it look, and feel very easy taking and comfortable. To be honest at one point I did fell asleep, which this never happened to me, during dental practice to my body. I am more than happy with the results, and also with the type of quality materials used. I have already recommended the clinic and Dr. Raul Costa to a few friends and family, which they already been there, and they are very happy. Can highly recommend Wimpole Street Dental Clinic, Dr. Raul Costa and all their professional stuff. Alex
Verity Wilkinson
2023-05-10
I can't recommend the clinic enough! I am a nervous person when it comes to dentistry but was made to feel immediately at ease by all the staff. Christian and his team are incredible!
Alexander Higgs
2023-02-22
Expertise shown by Dr S Chawla was excellent, calmed any nerves I had and let me know everything that was going to happen before doing anything. Gave a detailed plan and was able to answer any question I had for him. Unfortunately 2 Bitewing X-rays did not load so was exposed to unnecessary radiation. Hope they correct this Fault for future patients.
I've had fixed implants( top and bottom) at this clinic . I could not be happier with the result. Dr Dejan Dragisic preformed the procedure and I can not recommend him highly enough . The whole team at this clinic are very professional, helpful and friendly . Dr Dejan Dragisic explained the whole procedure and put my mind at rest the whole whole time I was in the chair . I had very little pain afterwards . Worth every penny .
Excellence. I can't say this enough. Just Excellence, from the moment I walked in to when I left. I was very nervous after bad experiences over many, many years with other dental practices, resulting in me not going to a dentist. The receptionists were very kind and understanding, making me feel at ease. Prof Dr Christian Mehl was extremely patient, respectful, attentive, and assuring, and he explained everything to me. My treatment was smooth and flawless, with absolutely no pain. He is, without a doubt, a true professional. I have my faith restored, but most of all, I have finally, finally found a dental clinic and a dentist I can trust. I can't thank everyone enough. I don't normally write or trust reviews. If you are reading this, then I assure you, you can trust this one.
Bernhard Raschke
2023-01-17
Brilliant team (receptionists, dentists, nurses), brilliant patient experience and top quality work. Real professionals with a big heart!
Donna Williams
2023-01-15
6 star service and care! What a fabulous experience- worth every £. Exceptional dentistry from surgeon Dr A El-Awa , top tech used to ensure my 2nd molar was extracted in the most efficient, comfortable ( pain free) and caring, personal manner. Unbelievably well treated by all staff, front desk to Dr's assistants Alice and Anna. Simply beyond expectations. Thank you ! Don't hesitate to book this top class, clean and professional clinic. Off the charts, excellent. Actually looking forward to the follow up treatment programme for the rest of my mouth!! And I came up from Brighton to Central London for this. Well done. Best £££'s worth in a very long time!
You can invest in your smile today
What happens during inlay treatment?
Your dentist offers you an initial consultation where you agree on your course of treatment. Importantly, your dentist will advise you on what has likely caused the initial decay that has led to the cavity and consequently requires treatment.
After administering a local anaesthetic, the tooth is prepared to a specific shape by removing damaged enamel and dentine following the principles of maximum conservation and minimally invasive dentistry.
The impression of the tooth is taken with as state-of-the-art digital 3-D scanner.
You are provided with temporary fittings while our dental laboratory prepares the inlays or partial crowns when they can be cemented in place after seven to ten days.
To prepare for an inlay or for a partial crown, your new teeth are digitally designed using our state-of-the-art CAD (computer-aided design) and CAM (computer-aided manufacturing) technology so that we can manufacture an inlay or partial crown that fits precisely to your tooth.
When bonding ceramic inlays, a protective dental dam (rubber dam) is applied around the tooth to act as a saliva barrier. This helps protect against other bacteria from infecting or harming the bond whilst the tooth is exposed.
When bonding ceramic onlays or partial crowns they are also bonded to the tooth in much the same way as inlays using extremely strong adhesive cement and again, a protective dental dam is applied during this process.
Post-treatment, one of our dental specialists will provide you with all the aftercare information and advice you may need to care for your inlays or partial crowns. We might recommend a visit to the hygienist at a later stage so that they can provide further guidance about maintaining a healthy oral hygiene routine to protect against further decay and damage to your inlay or onlay.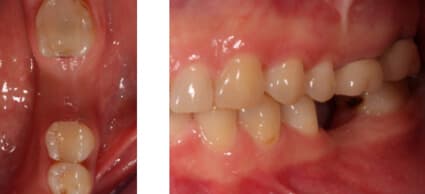 01
A patient with a gap in the position of the first molar and a tooth with a decay underneath a large composite filling (brown spot) behind the gap.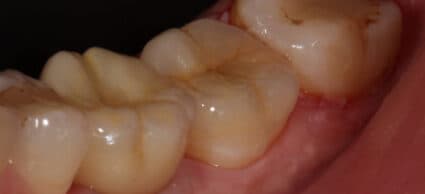 02
The gap was treated with an implant supported crown and the tooth behind received a partial crown which is barely visible.
Why is Wimpole Street Dental Clinic best for
inlays and partial crowns

in London?

It's only natural that our patients want to protect their oral health but do so without having to compromise on their appearance. Our team are understanding, knowledgeable and reliable for delivering the very best results in London. Our experienced dental team are the perfect choice for any patient considering inlays or partial crowns because:
We have invested in state-of-the-art dental technology that allows us to undertake the most innovative and reliable dental practices worldwide. Digital computer-aided design (CAD) and computer-aided manufacturing (CAM) technology allow us to deliver the very best in patient care and patient results.
Prosthodontics is the branch of dentistry concerned with the design, manufacture, and fitting of artificial replacements for teeth. Whether it's inlays, veneers, crowns, bridges or implant-supported restorations, we offer you the whole spectrum of prosthetic treatment with high-quality dental restorations from our laboratory in Germany led by master dental technicians.
Our prosthodontist team have many years of experience in complex oral rehabilitation and can help answer any questions you may have about the treatment, aftercare and how inlays and partial crowns work.
Our newly refurbished dental clinic is in the heart of central London on prestigious Wimpole Street. Our clinic ensures a calming and stress-free ambience that helps even the most nervous patients feel at home.
Meet our dentists who are experts in Inlays & Onlays…
We have over 75+ years of combined dentistry experience across our specialist team.
10,000+ treatments performed and counting.
We are leaders in the dental industry – we regularly teach, lecture and publish our research work internationally.
Aesthetic and Restorative Dentist at Wimpole Street Dental Clinic
Specialist in Prosthodontics & Dental Implant Surgeon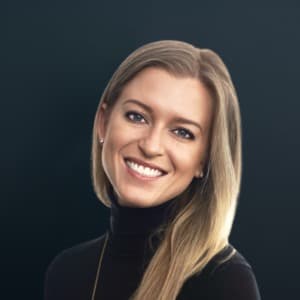 Recognised expert in various modern restorative dental procedures
Specialist in Periodontology, Oral Surgery & Full Mouth Reconstruction
Frequently asked questions
How long do dental inlays and onlays last?
All-ceramic inlays, gold inlays and partial crowns have an average lifespan of 20 years. The latest scientific study provides us with a survival rate of 86% after 18 years (Reiss et. al. 2006). The durability is also dependent on the location and size.
Oral hygiene also has a decisive influence on lifespan, so please use floss or interdental brushes. Our hygienist will be able to propose a robust oral hygiene routine that not only increases the longevity of your inlays but also the health of your teeth and gums.
Please ensure you regularly attend dental check-ups so that our dental professionals can check, clean and maintain your inlays regularly.
Is having a partial crown painful?
Temporary tooth sensitivity or discomfort may occur after an inlay or partial crown procedure. During your initial consultation, we will detail your aftercare to ensure that your dental health is protected from further damage.
If you have any concerns which arise regarding the healing process, please contact us at Wimpole Street Dental Clinic for advice.
Can a partial denture be attached to a crown?
It is possible for a partial denture to be attached to a crown. If this is something you are considering please contact us to book an initial consultation to discuss it with one of our dentists.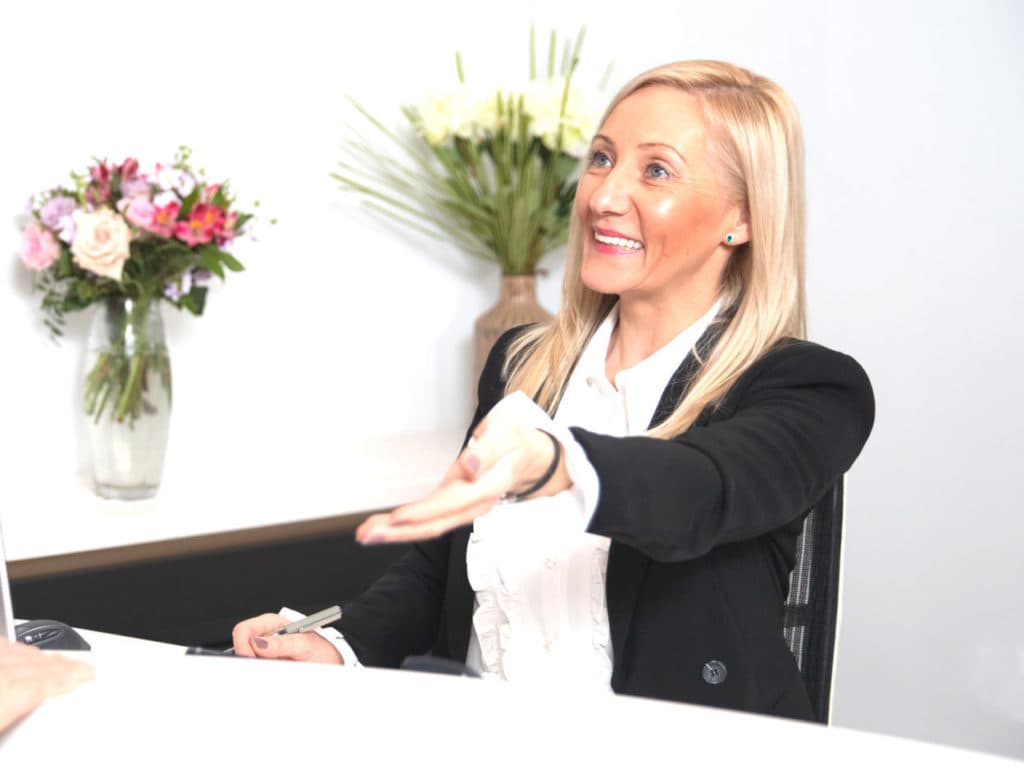 What does a dental inlay look like?
Our all-ceramic inlays are designed to ensure a perfect fit and also a perfect aesthetic match to your teeth and so are virtually indistinguishable from natural teeth.
Are partial crowns worth the money? Which materials are better for a partial crown?
When considering the use of partial crowns (onlay treatment) in your own dental care plan it may be prudent to look at safeguarding your smile as a long-term investment in your comfort, confidence and oral health.
Exceptionally large cavities cannot be treated with composite fillings or inlays as the surface area is too large and an intact and stable biting surface surrounding the affected tooth must be restored by way of a partial crown.
Rest assured that the partial crowns we manufacture in our master dental laboratories in Germany and the United Kingdom guarantee the highest quality in crown function and aesthetics. Ask your dental professional about the benefits of a partial crown and how we manufacture them for more information about this dental treatment.
Can a partial crown be re-used?
We would consider it unlikely that a partial crown would be re-used. We would advise that in order to secure the perfect fit and enjoy the optimum crown function and aesthetic compatibility a new partial crown is applied. It is likely that in the time since your partial crown was fitted that your tooth and surrounding have likely changed with age and wear. Whilst these changes might only be minimal, we want to ensure that your partial crown is a perfect fit so that it doesn't cause discomfort or allow for any bacterium to access the tooth structure.
What is a partial crown?
All-ceramic inlays and partial crowns (onlays) can be made from materials including dental porcelain and are similar in nature to a filling.
Do you need an impression for a dental inlay?
Yes. To prepare for an inlay or for a partial crown, your teeth are either digitally moulded using "photography" or conventionally moulded with an impression after tooth decay removal and tooth preparation.
Our state-of-the-art dental technology allows us to visualise your mouth without needing to take a conventional mould. This helps guarantee the size, comfort and placement of the inlay when it is bonded to your teeth. This precise positioning and sizing ensure that small morsels of food can't get stuck in small cavities potentially leading to further tooth decay and potentially re-treatment.
Is regular care needed?
Like with any other restoration or even for natural teeth, we would normally recommend at least one check-up per year with the dentist and twice a visit to the dental hygienist. This way it can be made sure that the margins of your inlays, onlays or partial crowns stay perfect.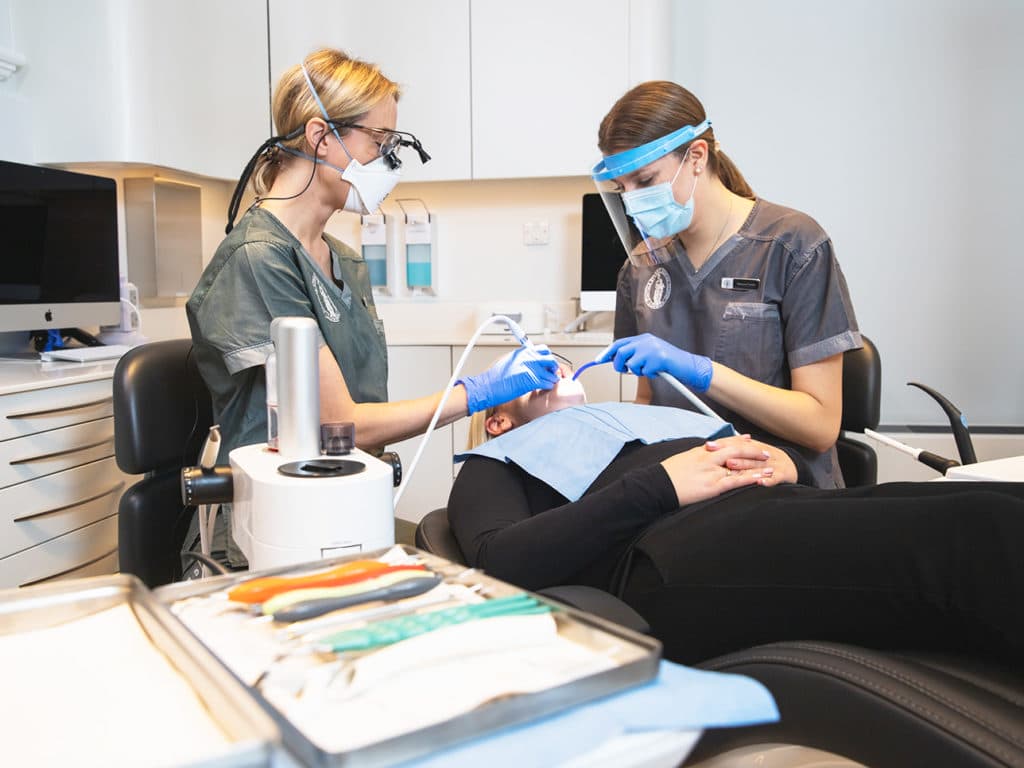 Related Treatments
Adhesive prosthetics, otherwise known as specially bonded, fixed ceramic restorations, such as a Maryland bridge for example, are a gentle…
When did we last update this page?
Our expert team continually update and research the latest news and techniques in dentistry, as such we regularly update our pages and have these clinically reviewed.
Current Version
July 21st 2023
Added "when did we last update this page" and author biography to the page.
Written by: Prof Dr Christian Mehl
Medically reviewed by: Dr Raul Costa
Previous Versions
October 2nd 2022
Page redesigned and updated to reflect change in address.
Written by: Prof Dr Christian Mehl
Medically reviewed by: Dr Raul Costa
30th August 2021
Original content created.
Written by: Prof Dr Christian Mehl
Medically reviewed by: Dr Raul Costa
Wimpole St Dental Clinic has strict sourcing guidelines and relies on peer-reviewed studies, academic research institutions, and medical associations. We avoid using tertiary references. You can learn more about how we ensure our content is accurate and current by reading our editorial policy.
van Pelt AW, de Kloet HJ, van der Kuy P. Keramische inlays en onlays [Ceramic inlays and onlays]. Ned Tijdschr Tandheelkd. 1996 Nov;103(11):472-6. Dutch. PMID: 11921995.
Christensen GJ. Tooth-colored inlays and onlays. J Am Dent Assoc. 1988 Sep;117(4):12E-17E. doi: 10.14219/jada.archive.1988.0036. PMID: 3053856.
Leirskar J, Henaug T, Thoresen NR, Nordbø H, von der Fehr FR. Clinical performance of indirect composite resin inlays/onlays in a dental school: observations up to 34 months. Acta Odontol Scand. 1999 Aug;57(4):216-20. doi: 10.1080/000163599428805. PMID: 10540932.
Meyer A Jr, Cardoso LC, Araujo E, Baratieri LN. Ceramic inlays and onlays: clinical procedures for predictable results. J Esthet Restor Dent. 2003;15(6):338-51; discussion 352. doi: 10.1111/j.1708-8240.2003.tb00307.x. PMID: 14982661.