Navigated Implants in London
The successful placement of dental implants involves a perfect positioning of the implant into the jaw bone. This process is much more accurate and predictable if using computer-navigated surgery and advanced 3D imaging. This also results in less invasion and much more comfortable procedure for both the surgeon and the patient.
Treatment Duration
1+ hour for each implant
Price
From £2800

Combined Team Experience
25+ years
Recovery Time
1+ day
Our Google Rating
★★★★★ (4.9)
What are navigated implants?
Navigated implants involve utilising computer-navigated surgery to insert the implant into the jaw bone with the highest levels of accuracy. Using advanced 3D imaging, the dentist can visualise the bone and position the dental implant in the right position, at the optimal angle and depth. This precision computer-aided technology not only helps us deliver the highest quality dental implants but also heightens the efficiency and comfort of the treatment, as the dentist is able to complete the treatment quicker and with less invasion without compromising on precision or accuracy.
Furthermore, by utilising this technology at the forefront of digital dentistry, we're able to record every aspect of your placement allowing for future restorations to be easily reproduced more efficiently.
Who is suitable for navigated implants?
If you're suitable for dental implants then there's no reason you wouldn't be suitable for navigated implants. This advancement in dentistry simply allows patients to receive a high level of precision and efficiency in their treatment, which in turn contributes to an increased success rate for the implants.
Navigated implants are ideal for patients who require extensive dental implantology work and might be missing numerous teeth. By using this digital dentistry technique, your dentist can prepare for the surgery in advance and reduce the amount of time required for the day.
Dental implants are common for patients seeking restoration to teeth that might be missing, damaged or decayed. Book a consultation with one of our dental implantology specialists today and they will be able to explain how the process works and what results you can expect. If you're a smoker or heavy drinker, we might recommend that such a treatment isn't suitable for you as such habits can harm the recovery and success rates of the implants. Alternate treatments might be more suitable if you're unable to give up.
Our Reviews
Natalia Sassoon
2023-06-10
Great service and care with Dr Shravan. Highly recommend his service and the clinic for all their help. Thank you!
Bianca Skinner
2023-06-05
Excellent practice! Such a lovely practice. I have been a client of Raul Costa's for many years. He is incredibly professional, experienced and I trust him completely.
Hi, I have been recommended to Wimpole Street Dental Clinic. Booked an appointment for check up. My Dentist was Dr. Raul Costa. During the check up, some issues were discovered. Everything was explained into detail, and with the beat solution's. On the spot Dr. Raul Costa has dealt with the minor issues, which it was really great and helpful. For my next appointment, we had to work for at least 1 and a half hour. To be honest I am not really good in sitting for so long in a dentist chiar, and doing all sorts of procedures. But Dr. Raul Costa made it look, and feel very easy taking and comfortable. To be honest at one point I did fell asleep, which this never happened to me, during dental practice to my body. I am more than happy with the results, and also with the type of quality materials used. I have already recommended the clinic and Dr. Raul Costa to a few friends and family, which they already been there, and they are very happy. Can highly recommend Wimpole Street Dental Clinic, Dr. Raul Costa and all their professional stuff. Alex
Verity Wilkinson
2023-05-10
I can't recommend the clinic enough! I am a nervous person when it comes to dentistry but was made to feel immediately at ease by all the staff. Christian and his team are incredible!
Alexander Higgs
2023-02-22
Expertise shown by Dr S Chawla was excellent, calmed any nerves I had and let me know everything that was going to happen before doing anything. Gave a detailed plan and was able to answer any question I had for him. Unfortunately 2 Bitewing X-rays did not load so was exposed to unnecessary radiation. Hope they correct this Fault for future patients.
I've had fixed implants( top and bottom) at this clinic . I could not be happier with the result. Dr Dejan Dragisic preformed the procedure and I can not recommend him highly enough . The whole team at this clinic are very professional, helpful and friendly . Dr Dejan Dragisic explained the whole procedure and put my mind at rest the whole whole time I was in the chair . I had very little pain afterwards . Worth every penny .
Excellence. I can't say this enough. Just Excellence, from the moment I walked in to when I left. I was very nervous after bad experiences over many, many years with other dental practices, resulting in me not going to a dentist. The receptionists were very kind and understanding, making me feel at ease. Prof Dr Christian Mehl was extremely patient, respectful, attentive, and assuring, and he explained everything to me. My treatment was smooth and flawless, with absolutely no pain. He is, without a doubt, a true professional. I have my faith restored, but most of all, I have finally, finally found a dental clinic and a dentist I can trust. I can't thank everyone enough. I don't normally write or trust reviews. If you are reading this, then I assure you, you can trust this one.
Bernhard Raschke
2023-01-17
Brilliant team (receptionists, dentists, nurses), brilliant patient experience and top quality work. Real professionals with a big heart!
Donna Williams
2023-01-15
6 star service and care! What a fabulous experience- worth every £. Exceptional dentistry from surgeon Dr A El-Awa , top tech used to ensure my 2nd molar was extracted in the most efficient, comfortable ( pain free) and caring, personal manner. Unbelievably well treated by all staff, front desk to Dr's assistants Alice and Anna. Simply beyond expectations. Thank you ! Don't hesitate to book this top class, clean and professional clinic. Off the charts, excellent. Actually looking forward to the follow up treatment programme for the rest of my mouth!! And I came up from Brighton to Central London for this. Well done. Best £££'s worth in a very long time!
Restore your smile using the latest in digital dentistry technology. Book an appointment today.
Wimpole Street Dental Clinic is conveniently located in the centre of London and accessible by car, taxi, bus and London Underground. Our dental practice is amongst one of the most innovative and technologically advanced practices in the country. Our staff are highly trained in using our wide variety of digital technology and we're experienced in undertaking navigated dental implant procedures.
To find out more about navigated dental implants and what's involved, please make an appointment with one of our dentists today.
Why choose Wimpole Street Dental Clinic for
navigated implants in London?
Dental implant surgery is always a big decision to make and can have life-changing results in regards to boosting self-confidence and restoring teeth function if you've previously lost teeth. We recognise that it's not an easy or quick decision to make, but here are a few key reasons why you can trust Wimpole Street Dental Clinic is the right choice for navigated implants.
We've invested in the best digital equipment and training for navigated implants. Not only do we have and use some of the most advanced cutting-edge dental technology in the UK (3D X-ray machine in-house, digital scanning technology, professional photography equipment and the latest implant planning software), but we also advise others on how to use it. We regularly present lectures, and training and write in dental publications about such digital dentistry techniques and research.
We're a team of highly experienced and highly trained London dentists. All of our staff regularly undertake new training to better themselves and the dental care they can provide to our patients. Not only is our team incredibly friendly and amiable but they are also hugely knowledgeable about digital dentistry. As such, Wimpole Street Dental Clinic is one of the few dental practices nationally that offers navigated implants and other digital dentistry techniques as part of its service offering.
Our recently refurbished dental clinic is based off the prestigious Wimpole Street in the heart of central London. You can easily get to us by car, taxi, bus, bike or London Underground.
Meet our dentists who are experts in Navigated Implants…
We have over 75+ years of combined dentistry experience across our specialist team.
10,000+ treatments performed and counting.
We are leaders in the dental industry – we regularly teach, lecture and publish our research work internationally.
What happens during
navigated implant surgery?
The first step for all of our surgical procedures is to have a consultation with one of our dentists. In this consultation they will ask about your dental history, your oral health and any aspects of your lifestyle that might have an impact on the success of the treatment (e.g. do you smoke). Our dentist will then inspect your mouth and assess the extent of the situation so that they can devise an appropriate dental treatment plan. Once they have explained the recommended course of action and talked you through the procedure, they will book in an appointment for your 3D scan and other diagnostic records.
On the day of your 3D scan, you'll come to our state-of-the-art dental practice in central London. A 3D cone beam computer tomography (CBCT) X-ray along with digital impressions and digital photographs of your mouth and teeth are taken so that we can begin our preparations for the surgery.
Using our innovative digital dentistry technology and techniques, we can then merge the CBCT, the digital photographs and impressions in a software program and virtually place the implant into the proper position to obtain the correct measurements, angle and depth required ahead of surgery. This also helps us create a highly precise and comfortable dental implant position for you. Then a computer-assisted implant guide is printed.
On the day of your surgery, you'll come back to our dental clinic off Wimpole Street (just adjacent to the famous Harley Street) and be greeted by your dentist. They will explain all the steps of the procedure again as well as what you can expect immediately after surgery. When you're happy to proceed, the implant guide will be used to precisely insert the implant in the pre-planned position. Using digital image guidance for the most accurate placement even allows us to have temporary tooth prepared in advance! You can opt to be sedated for the surgery by one of our anaesthetists so as to avoid feeling any pain or discomfort throughout.
After the surgery, you will be advised on what to do in order to secure the best chances of recovery and success for the implants.
Frequently asked questions
What is digital dentistry?
Digital dentistry refers to using digital equipment and digital technology to aid a dentist in their treatment. Digital dentistry in the case of navigated implants might refer to the use of 3D imaging, computer-aided guidance and digital records. Digital dentistry allows for a more efficient dental workflow and a higher standard of dentistry.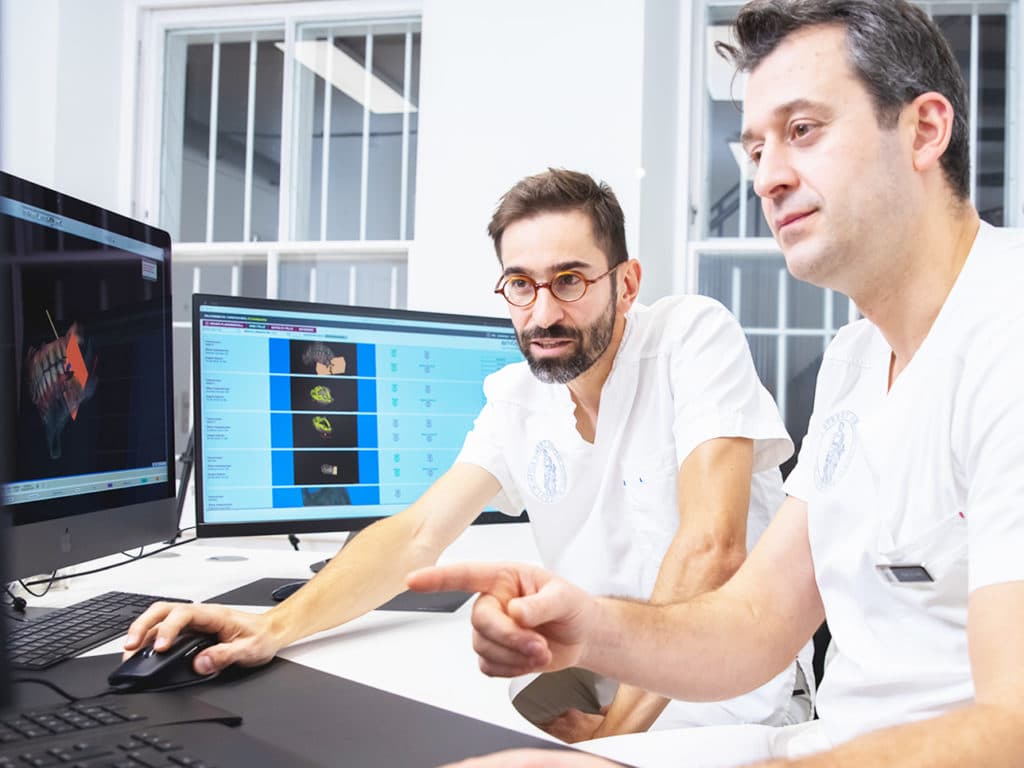 How much does navigated implant surgery cost?
The cost of the surgery is difficult to say without a face-to-face consultation with a dentist. Every patient's oral condition is different and there are multiple factors that a dentist needs to consider before even making sure the patient is suitable e.g. their dental history, making sure the patient is free from diseases like gum disease, and that their lifestyle habits are suited to implantology. Book an appointment today with a dentist at Wimpole Street Dental Clinic and they will be able to assess your suitability and provide an estimated cost on examination.
What is the advantage of navigated implants?
The primary advantage of navigated implants is the accuracy and precision of the implant placement. The use of digital technology in practice not only allows the dentist to achieve more precise placement, but also improves the efficiency and speed of the treatment. This may be particularly calming to hear for nervous patients who might want to avoid long and multiple appointments.
Ultimately, navigated implants can see a higher success rate due to the comprehensive nature of the planning and precision involved.
Related Treatments
All-On-4 dental treatment can be preferable for patients who require extensive dental restoration. Rather than placing individual implants (which can…
When did we last update this page?
Our expert team continually update and research the latest news and techniques in dentistry, as such we regularly update our pages and have these clinically reviewed.
Current Version
July 21st 2023
Added "when did we last update this page" and author biography to the page.
Written by: Prof Dr Christian Mehl
Medically reviewed by: Dr Raul Costa
Previous Versions
October 2nd 2022
Page redesigned and updated to reflect change in address.
Written by: Prof Dr Christian Mehl
Medically reviewed by: Dr Raul Costa
30th August 2021
Original content created.
Written by: Prof Dr Christian Mehl
Medically reviewed by: Dr Raul Costa
Wimpole St Dental Clinic has strict sourcing guidelines and relies on peer-reviewed studies, academic research institutions, and medical associations. We avoid using tertiary references. You can learn more about how we ensure our content is accurate and current by reading our editorial policy.
Chen P, Nikoyan L. Guided Implant Surgery: A Technique Whose Time Has Come. Dent Clin North Am. 2021 Jan;65(1):67-80. doi: 10.1016/j.cden.2020.09.005. Epub 2020 Nov 2. PMID: 33213716.
Wu Y, Wang F, Fan S, Chow JK. Robotics in Dental Implantology. Oral Maxillofac Surg Clin North Am. 2019 Aug;31(3):513-518. doi: 10.1016/j.coms.2019.03.013. Epub 2019 May 15. PMID: 31103316.
Panchal N, Mahmood L, Retana A, Emery R 3rd. Dynamic Navigation for Dental Implant Surgery. Oral Maxillofac Surg Clin North Am. 2019 Nov;31(4):539-547. doi: 10.1016/j.coms.2019.08.001. PMID: 31563194.
Rawal S. Guided innovations: Robot-assisted dental implant surgery. J Prosthet Dent. 2022 May;127(5):673-674. doi: 10.1016/j.prosdent.2022.03.029. Epub 2022 May 26. PMID: 35643826.
Herklotz I, Beuer F, Kunz A, Hildebrand D, Happe A. Navigation in implantology. Int J Comput Dent. 2017;20(1):9-19. PMID: 28294202.