Root Canal Treatment in London
Saving a decaying tooth doesn't have to be intimidating. Thankfully, the experienced professionals at Wimpole Street Dental Clinic in London can provide the utmost quality of care to conserve your smile.
As dental patients, we all understand what it means to experience severe toothache and do not always understand the reason why. Root canal pain can be caused by inflammation or damage to the root of the tooth that ultimately leads to infection of the tooth and pulp. As our clinical priority at Wimpole Street Dental Clinic is on saving teeth wherever possible, root canal treatment presents an effective and virtually pain-free but necessary opportunity to do this.
The root canal pain and/or discomfort you may be experiencing can cause a ringing, piercing pain in the tooth or perhaps a dull, pulsating sensation. It is prudent for us to act fast to cleanse and disinfect the root canal and surrounding gums of any bacteria, fill and seal the area in order to strengthen the tooth and restore you and your teeth to the comfort and confidence of your natural smile as soon as possible.
Many patients are able to get back to normal straight away though they may experience some slight sensitivity following the endodontic treatment
Treatment Duration
2 hours
Price
From £900

Combined Team Experience
40+ years
Recovery Time
1+ days
Our Google Rating
★★★★★ (4.9)
Who is suitable for Root Canal?
At Wimpole Street Dental Clinic, when you attend your appointment, we conduct an initial consultation with you to identify the tooth affected, discover the extent of the proposed root canal treatment required and its potential complexity and so guide our optimal choice of the dental care plan for you.
If there is a good chance of saving the tooth and the patient's oral health is otherwise in good condition, we may recommend a course of endodontic treatment such as a root canal.
Root canal treatment fees



Front tooth


From £900
Premolar
from £980
Molar
from £1,350
Emergency root canal treatment
from £250
Front tooth retreatment
from £1000
Premolar retreatment
from £1,300
Molar retreatment
from £1,600
Review X-ray
from £120
Medication change
from £100
Are you ready to restore your smile?
We know that no patient looks forward to root canal treatment, so our dental team always work hard to deliver the highest quality care.
Treatment for root canal differs in cost from £95 up to £1,400. Costs depend on patient circumstances and oral health. Every one of our patients receives a bespoke personal treatment plan from our specialist team.
Our Reviews
Natalia Sassoon
2023-06-10
Great service and care with Dr Shravan. Highly recommend his service and the clinic for all their help. Thank you!
Bianca Skinner
2023-06-05
Excellent practice! Such a lovely practice. I have been a client of Raul Costa's for many years. He is incredibly professional, experienced and I trust him completely.
Hi, I have been recommended to Wimpole Street Dental Clinic. Booked an appointment for check up. My Dentist was Dr. Raul Costa. During the check up, some issues were discovered. Everything was explained into detail, and with the beat solution's. On the spot Dr. Raul Costa has dealt with the minor issues, which it was really great and helpful. For my next appointment, we had to work for at least 1 and a half hour. To be honest I am not really good in sitting for so long in a dentist chiar, and doing all sorts of procedures. But Dr. Raul Costa made it look, and feel very easy taking and comfortable. To be honest at one point I did fell asleep, which this never happened to me, during dental practice to my body. I am more than happy with the results, and also with the type of quality materials used. I have already recommended the clinic and Dr. Raul Costa to a few friends and family, which they already been there, and they are very happy. Can highly recommend Wimpole Street Dental Clinic, Dr. Raul Costa and all their professional stuff. Alex
Verity Wilkinson
2023-05-10
I can't recommend the clinic enough! I am a nervous person when it comes to dentistry but was made to feel immediately at ease by all the staff. Christian and his team are incredible!
Alexander Higgs
2023-02-22
Expertise shown by Dr S Chawla was excellent, calmed any nerves I had and let me know everything that was going to happen before doing anything. Gave a detailed plan and was able to answer any question I had for him. Unfortunately 2 Bitewing X-rays did not load so was exposed to unnecessary radiation. Hope they correct this Fault for future patients.
I've had fixed implants( top and bottom) at this clinic . I could not be happier with the result. Dr Dejan Dragisic preformed the procedure and I can not recommend him highly enough . The whole team at this clinic are very professional, helpful and friendly . Dr Dejan Dragisic explained the whole procedure and put my mind at rest the whole whole time I was in the chair . I had very little pain afterwards . Worth every penny .
Excellence. I can't say this enough. Just Excellence, from the moment I walked in to when I left. I was very nervous after bad experiences over many, many years with other dental practices, resulting in me not going to a dentist. The receptionists were very kind and understanding, making me feel at ease. Prof Dr Christian Mehl was extremely patient, respectful, attentive, and assuring, and he explained everything to me. My treatment was smooth and flawless, with absolutely no pain. He is, without a doubt, a true professional. I have my faith restored, but most of all, I have finally, finally found a dental clinic and a dentist I can trust. I can't thank everyone enough. I don't normally write or trust reviews. If you are reading this, then I assure you, you can trust this one.
Bernhard Raschke
2023-01-17
Brilliant team (receptionists, dentists, nurses), brilliant patient experience and top quality work. Real professionals with a big heart!
Donna Williams
2023-01-15
6 star service and care! What a fabulous experience- worth every £. Exceptional dentistry from surgeon Dr A El-Awa , top tech used to ensure my 2nd molar was extracted in the most efficient, comfortable ( pain free) and caring, personal manner. Unbelievably well treated by all staff, front desk to Dr's assistants Alice and Anna. Simply beyond expectations. Thank you ! Don't hesitate to book this top class, clean and professional clinic. Off the charts, excellent. Actually looking forward to the follow up treatment programme for the rest of my mouth!! And I came up from Brighton to Central London for this. Well done. Best £££'s worth in a very long time!
Rest assured, you're in safe hands with our root canal specialists
What happens during Root Canal Treatment?
Remember that once root canal treatment begins you will receive a local anaesthetic to numb the infected tooth and surrounding gums ensuring you experience a virtually pain-free appointment with us. In terms of pain after root canal, dental patients may only experience minor sensitivity to the tooth in question for a few days afterwards.
Here at Wimpole Street Dental Clinic, we can offer our dental patients video glasses so you can relax by watching a film or television show of your choice as we conduct this procedure for you. Root canal treatment can often be completed in just one visit to us so do not hesitate to book this kind of appointment designed to safeguard your smile and your health.
How does Root Canal Treatment work?
Step-by-step
root canal process
STEP 1
Our endodontists start by identifying the affected tooth. Before treatment begins, your dentist is likely to take a number of additional measurements (or in some instances, X-rays) of the affected tooth so that they assess the extent of the damage.
After anaesthetising the tooth and the surrounding area your dentist may then place a rubber-like material around the affected tooth (known as a 'dental dam') to keep the area dry during treatment. This prevents saliva and bacteria from contaminating the area and stops material and liquids from the treatment from entering your mouth.
STEP 2
Access to the damaged nerve is achieved by drilling a small hole into the chewing surface of the tooth. The length of the root canal is measured using an electronic gauge in a process known as endometrics, this also helps reduce the necessity for additional X-rays.
The root canal is cleaned using rotating files and a tailor-made combination of disinfectants until the root tips, known as the apices, are reached.
STEP 3
After a member of our dental team has conscientiously and carefully prepared and disinfected the root canal, we seal it with a thick root filling to prevent bacteria entering. The material we use for this, gutta-percha, has proven to be very reliable. Feel free to ask our endodontics team about gutta-percha and its advantages over other alternatives.
For back teeth, crowns or partial crowns are used after this root canal treatment to prevent tooth fractures or reinfection. The restoration stabilises the tooth in such a way that it will be twice as strong as a natural tooth free from decay.
STEP 4
Depending on the severity of the inflammation and the complexity of the patient's root canal system, most treatments of this nature require only one visit to the dentist.
You may suffer from some swelling and discomfort once the anaesthesia has faded. Your dentist may recommend over-the-counter pain relief to help manage this discomfort over the next few days.
Procedure of a root canal treatment in pictures
01
When a tooth nerve dies due to trauma (decay, impact, grinding, etc.), inflammation occurs at the root tip of the tooth, which can have an impact on overall health. It is then important to clean the tooth and disinfect the root canals all the way to the tip. Here you can see a four-canal lower posterior tooth with cleaned canals.
02
The cleaned canals are sealed with a cement and rubber-like pins.
03
The tooth is then given a filling to stabilise it again. To achieve long-term stability, restoring the tooth with an all-ceramic partial crown or crown is suitable.
04
Here is the exemplary X-ray image of a root canal-filled tooth. The rubber tips ideally reach the end of the tooth root.
Root canal for nervous patients
Patients who are particularly worried about root canal treatment can undergo this dental treatment under light or deep sedation if they would prefer not to experience the entire dental procedure under just local anaesthesia.
Root canal treatment is often a long procedure and as such many patients dread having to spend too much time sitting in a chair. To help avert boredom and help distract you during the root canal procedure, we provide video glasses so you can relax and watch a film or television show of your choice.
How does toothache develop?
Wimpole Street Dental Clinic has the best Endodontists in London
Whenever you need to take care of your smile – in an emergency, during routine care or when booking cosmetic dentistry – you naturally seek a qualified, skilled and experienced dental professional whom you can trust to deliver the premium dental care you expect at every appointment.
We would like you to consider placing your trust in Wimpole Street Dental Clinic because:
We are internationally renowned within the dental profession


We pride ourselves on offering evidence-based dentistry with a person-centred approach
We use a microscope or other magnifying equipment to ensure world class results
We offer a new standard in modern specialist dentistry in our clinical methodology – leveraging the optimal combination of the finest handcraft, digital computer-aided design (CAD) and computer-aided manufacturing (CAM) technology to deliver excellence in both patient care and dental treatment success
We perform all root canal treatments in accordance with the guidelines of the German and British Society of Endodontics here at Wimpole Street Dental Clinic in London.
Meet our dentists who are experts in Root Canal Surgery…
We have over 75+ years of combined dentistry experience across our specialist team.
10,000+ treatments performed and counting.
We are leaders in the dental industry – we regularly teach, lecture and publish our research work internationally.
Practice is limited to Endodontics (Root Canal Treatments)
Specialist in prosthodontics & dental implant surgeon
Aesthetic and Restorative Dentist (Emergencies only)
Specialist in Periodontology, Oral Surgery & Full Mouth Reconstruction
Frequently asked questions
How long does an endodontic treatment take?
Root canal therapy can be a lengthy procedure. After your initial consultation with your dentist, we will be in a more informed position to offer you a realistic duration of treatment after assessing teeth and individual needs as presented on this occasion.
What is the difference between an endodontist and a dentist?
You might read about needing to visit an endodontist and be not sure what or who that is. Quite simply, an endodontist is a dentist who has likely undertaken an additional 2 or 3 years at dental school to become a specialist in diagnosing dental pain and undertaking root canal treatment. They are also called root canal specialists and are registered by the GDC.
How do you know if you need a root canal?
According to the NHS, the treatment is only necessary when dental X-rays show that your dental pulp (the soft tissue present at the centre of the tooth), has been damaged by a bacterial infection. This infection may be evident by the sign of a dental abscess or simply via sharp or pulsating pain around the tooth. However, this definition is by far not precise enough as an X-ray might show the reason for pain only weeks and months later. Sometimes clinical symptoms are a better way to decide if you need endodontic therapy.
Do root canals hurt?
When the centre of the tooth has an infection it can cause severe toothaches such as a ringing, piercing pain or a dull, pulsating sensation which will naturally lead the dental patient to seek treatment. Our root canal therapy is a virtually pain-free procedure though there may be some sensitivity and pain post-treatment. Thankfully, root canal treatment means it is highly unlikely (less than 10%) for the infection to occur again.
How does a root canal problem and pain develop?
The main causes of toothache are tooth decay, trauma (impact or blow), cracks in the tooth, leaky fillings or crowns as well as pressure differences (e.g. when flying, or diving). Very rarely do the teeth hurt for one to two weeks, even with a cold. Pain caused by colds or pressure differences should initially only be observed. There are also often sensitive tooth necks that cause toothache with cold and warm food. If necessary, we cover sensitive tooth necks with small fillings. Root canal treatment should only be performed if the responsible tooth has been reliably identified.
If the tooth nerve inflammation leads to an uncontrolled death of the tooth nerve in the pulp chamber, the inflammation can spread to the tooth-supporting structures and bones that surround the tooth (apical ostitis) via the tooth root canals. The dentist can see this on the X-ray as a dark point at the tip of the root, as minerals such as calcium and magnesium are removed from the bone by the inflammation. X-rays, therefore, pass through the bone more easily and expose the X-ray film more strongly. In pronounced cases, the inflammation breaks through the bone and forms a cavity filled with pus. At this stage, patients often experience very severe pain.
If the abscess drains through the periosteum and gums into the oral cavity, a so-called dental fistula forms and the pain subsides. When the inflammation becomes chronic, a tooth cyst can form. The patient usually has no pain, but the affected tooth should be treated in any case so that the inflammation does not spread.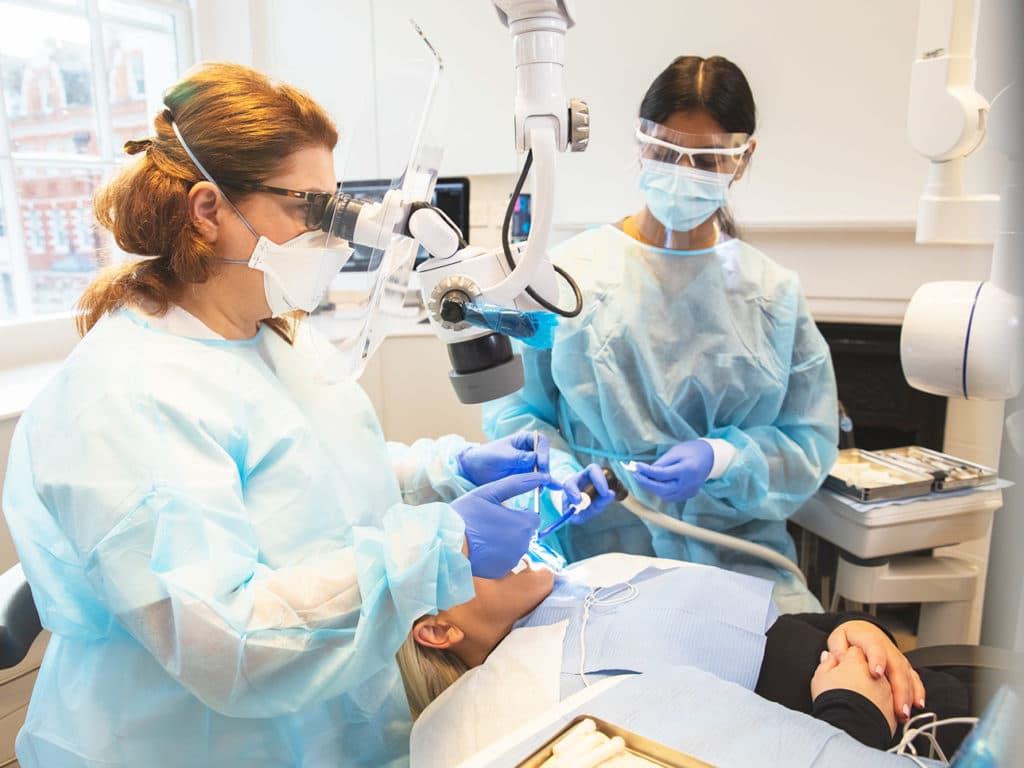 What are the single steps of a root canal procedure explained in detail?
Before any endodontic procedure, the cause of the pain has to be identified. The tooth and the affected area are numbed. Treatment under sedation or anaesthesia is of course also possible for anxious patients. Then the affected tooth is covered with a rubber dam and sealed so that no bacteria or saliva contaminate the work area and no liquids that are necessary for disinfection reach the oral cavity.
Any endodontic therapy in our clinic is conducted using an optical magnification – the dental microscope. After drilling into the tooth the pulp tissue in the pulp chamber – the nervous system of the tooth – is removed. The access is a small hole on the chewing surface of the tooth. Afterwards, the root canal system is cleaned with the help of rotating files and an individual sequence of different disinfectant liquids right up to the tip of the root.
The process is very time-consuming as it has a significant impact on the success of the root canal treatment. So that you don't get bored, we are happy to provide you with video glasses with which you can watch films and series of your choice.
We determine the length of the root canal with an electronic length-measuring device (endometry). We get the exact length of the canals by measuring the electrical resistance. This allows us to avoid additional x-rays. The aim of endodontic treatment is to kill bacteria and remove tissue remnants.
Most root canal treatments can be completed in one treatment session ("one-visit" principle), depending on the degree of inflammation of the tooth and the complexity of the root canal system. After the canals are prepared and we have disinfected the root canal precisely and carefully, they are sealed with a dense root filling. This prevents re-inflammation from bacteria. For this, we use sterile gutta-percha, a material that is characterised by its very reliable quality.
In order to restore the original tooth shape and to ensure adequate protection of the root filling against the re-invasion of bacteria, an adhesive filling is necessary. However, if there is too little of the original hard tooth substance, the filling must be supported with a post. In order to maintain the aesthetic appearance of the tooth, we can carry out internal bleaching in our practice at regular intervals. This is because minimal bleeding into the tooth can cause it to turn darker in colour and thus affect the appearance of the entire row of teeth.
In most cases, the final restorative solution of the tooth after the root treatment is a stabilizing crown or partial crown.
Despite the now very high success rate of root canal treatments (around 90%), a revision (endodontic retreatment) may be necessary. If the revision does not show any improvement in the symptoms due to heavily branched root tips, a root tip resection is often the best way to ensure freedom from pain. If both options fail a dental implant or a dental bridge might be able to replace the now-lost tooth.
What is a root canal filling?
After careful cleansing of the infected teeth (by removing the affected nerve and surrounding tooth pulp), the root canal is sealed with a thick root filling to prevent bacteria from entering. We use a reliable material called gutta-percha for this step in the root canal treatment process.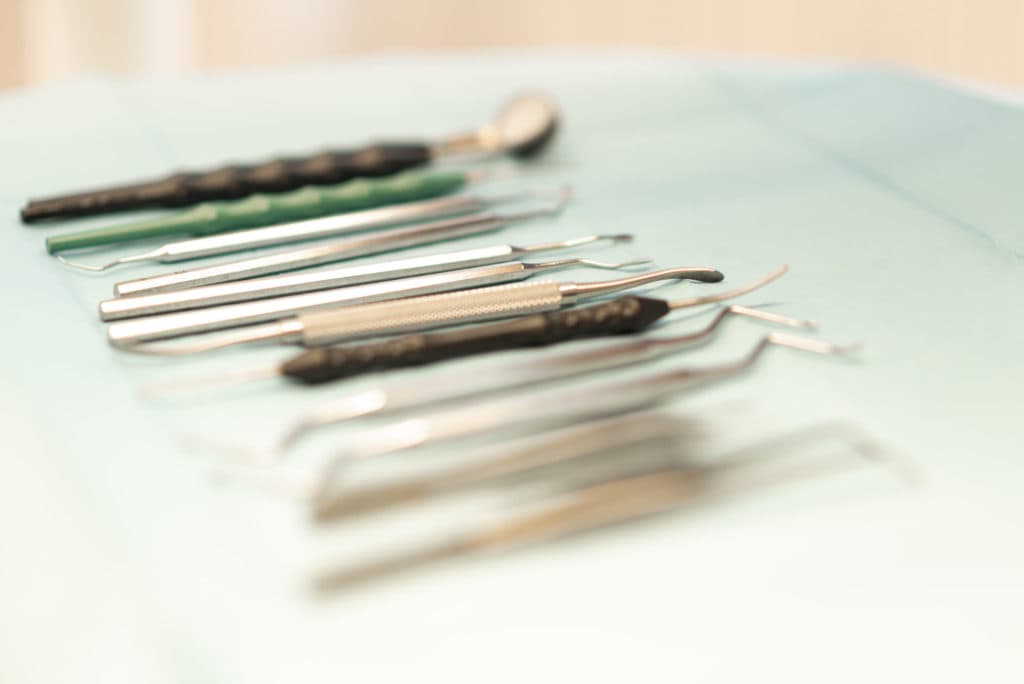 How is a root canal done?
We have provided a video guide to assist you in understanding our Root Canal offer.
It is designed to cleanse and disinfect the infected tooth by removing the nerve and surrounding pulp. Once the infection is removed, the area is filled and sealed to strengthen and finished with crowns or partial crowns to restore your natural smile.
Can you eat after a root canal?
We would always advise caution when eating and drinking after lengthy endodontic therapy.
Many patients who undertake an endodontic treatment find the process virtually pain-free and may only experience minor sensitivity to the tooth in question for a few days afterwards.
If you experience significant pain or discomfort when eating after this endodontic treatment, you can contact your dentist for further pain relief advice.
How long does a root canal take to heal?
Post-treatment, our dental patients may experience minor sensitivity to the tooth in question for a few days afterwards. If you have any concerns which arise post-treatment regarding the healing process, please contact us at Wimpole Street Dental Clinic for advice.
When do I need a root canal treatment?
Only once your experienced dental professional has identified root canal treatment as suitable for you upon the results of your dental X-rays. Root canal is usually the course of action taken if the patient is experiencing pain, has a visible abscess or if the dentist is able to identify the infection visually.
If your tooth is badly infected or damaged by decay, then your dentist will need to remove the affected nerve and the surrounding pulp. This treatment is finished with the tooth (or teeth) being sealed by your dentist so that it cannot be infected again in the future.
What causes a root canal infection?
A root canal infection can be caused by tooth decay, inflamed or damaged roots of the tooth, leaky dental fillings or damage (such as a minor fracture) caused as a result of a fall. Very seldom, but even natural teeth without any other restoration can sometimes start to hurt and may need an endodontic procedure.
The root canal procedure is an endodontic treatment undertaken by a dentist or endodontist to remove the infected nerve and surrounding pulp.
Can I drive after root canal treatment?
We would always advise caution when driving after a lengthy dental procedure. Due to our central location in the heart of London, there is a multitude of alternative transport options available including taxi, bus and London Underground stops nearby. You must not drive after having a local anaesthetic which is still present when you aim to drive.
Please note that the root canal treatment process we offer is virtually pain-free and you may only experience minor sensitivity to the tooth in question for a few days afterwards.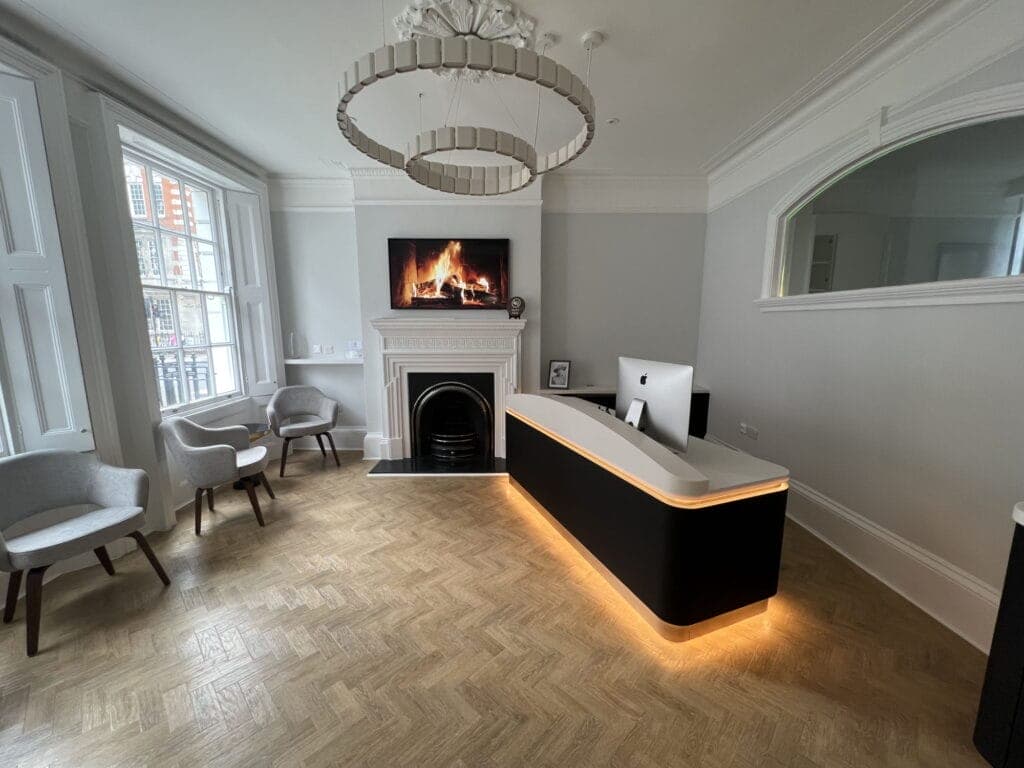 How much does root canal cost?
Root canal treatment costs differ depending on the treatment and the oral health of the patient. Costs start at £120 for a review (including x-ray) going up to £1,400 for molar re-treatment. Emergency root canal treatment costs £250 and is offered to new and old patients alike. See our dental fees page for all of our indicative costs.
Who can undertake root canal?
Root canal is a common dental procedure that is usually undertaken by a general dentist, though we're proud to offer the skill and experience of expert root canal dentists like Dr Mosahebi or Prof Mehl. Our specialists have not only completed thousands of root canal procedures, but they also regularly publish scientific research and lecture about the subject, such is their reputation and expertise.
Related Treatments
Internal Bleaching in London Internal bleaching is a procedure that whitens the teeth which have had root canal treatment or…
When did we last update this page?
Our expert team continually update and research the latest news and techniques in dentistry, as such we regularly update our pages and have these clinically reviewed.
Current Version
July 21st 2023
Added "when did we last update this page" and author biography to the page.
Written by: Prof Dr Christian Mehl
Medically reviewed by: Dr Raul Costa
Previous Versions
October 2nd 2022
Page redesigned and updated to reflect change in address.
Written by: Prof Dr Christian Mehl
Medically reviewed by: Dr Raul Costa
30th August 2021
Original content created.
Written by: Prof Dr Christian Mehl
Medically reviewed by: Dr Raul Costa
Wimpole St Dental Clinic has strict sourcing guidelines and relies on peer-reviewed studies, academic research institutions, and medical associations. We avoid using tertiary references. You can learn more about how we ensure our content is accurate and current by reading our editorial policy.
Lumley PJ, Adams N, Tomson P. Root canal retreatment. Dent Update. 2006 Nov;33(9):518-20, 522-4, 526-8, 530. doi: 10.12968/denu.2006.33.9.518. PMID: 17176738.
Ford TR, Rhodes JS. Root canal retreatment: 2. Practical solutions. Dent Update. 2004 Mar;31(2):97-102. doi: 10.12968/denu.2004.31.2.97. PMID: 15065373.
Tang L, Sun TQ, Gao XJ, Zhou XD, Huang DM. Tooth anatomy risk factors influencing root canal working length accessibility. Int J Oral Sci. 2011 Jul;3(3):135-40. doi: 10.4248/IJOS11050. PMID: 21789962; PMCID: PMC3470095.
Rabinovich IM, Abakarova DS, Snegirev MV. [Root canal irrigation – component of endodontic treatment success]. Stomatologiia (Mosk). 2011;90(3):80-3. Russian. PMID: 21845784.
Tidmarsh BG. Preparation of the root canal. Int Endod J. 1982 Apr;15(2):53-61. doi: 10.1111/j.1365-2591.1982.tb01341.x. PMID: 6951816.